Photos Framed: A Fresh Look at the World's Most Memorable Photographs (Hardcover)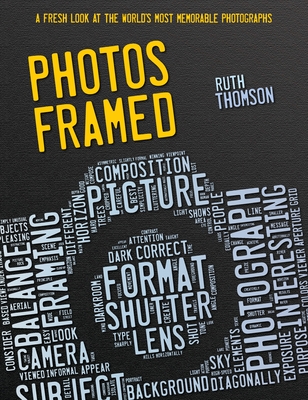 $18.99

If not in stock, we can Special Order from the publisher
Description
---
Portrait. Nature. Art. Documentary. A look at some of the world's most iconic photographs invites viewers to focus on the medium's place in art and history.

Photographs can be beautiful or harrowing, honest or manipulative, dramatic or comforting. Photos Framed explores twenty-seven of the most important and vivid photos taken over the medium's history, from a formal portrait of Louis Daguerre taken in 1844 to a candid shot of a Cuban girl and her doll in 2011. Readers are invited to use their powers of observation to zoom in on photographic elements, blow up details of the subject matter, think about the big picture, and pan out on the photographer. Photos Framed will open viewers' eyes to the art of photography and its power to tell a story.
About the Author
---
Ruth Thomson is an award-winning author and editor of educational books on art and history, including Terezín: Voices from the Holocaust. She has an MA in museum and gallery education and lives in London.
Praise For…
---
The images are all intriguing and do much to capture the scope and cultural importance of photography as an art form as well as a documentary medium. A fine resource and excellent for even a casual perusal.
—Kirkus Reviews

Each beautiful reproduction is accompanied by a single facing page that includes title and date or work, photographer, two brief paragraphs of background on the image and its creator, "Blow Up" and "Zoom In" inset boxes, and a trio of open-ended questions to start the wheels turning. The springboard questions laudably avoid cookie-cutter formatting, focusing instead on attributes or puzzles unique to a particular work. The result is a wide-ranging set of inquiries.
—Bulletin of the Center for Children's Books

A brief introduction provides the framework for this slim book, which details 27 photographs under four thematic sections: portraits, nature, and documentary, and art images. Each quality, full-page reproduction sits opposite a page of information that includes a few facts (title, date, and name of the artist), along with a paragraph on the picture, noting its artistic or historical relevance, and one on the photographer discussing his/her medium, subjects, etc.
—School Library Journal

In this well-organized nonfiction text, Ruth Thompson provides readers with a visual journey through history. ... This is unquestionably an informative, well researched, and engaging nonfiction selection.
—Reading Today Online

An excellent introduction for young readers, artists and journalists to the surprising complexity of the simple snapshot.
—Virginian-Pilot

This fascinating book leaves readers thinking critically about photographs.
—Library Media Connection