Judy: A Legendary Film Career (Hardcover)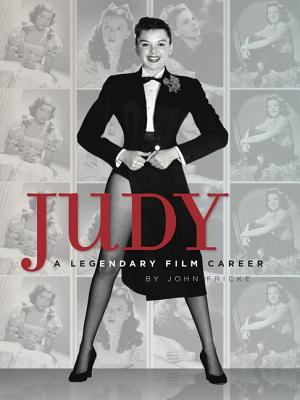 Description
---
Through her incomparable work on screen, stage, record, radio, and television, Judy Garland earned renown as The World's Greatest Entertainer. It was as a motion picturestar though, that she first rose to international fame. Fromher feature film debut in 1936 through the aptly titled "I Could Go on Singing" in 1963, she lit upthe screen with a magic uniquely hers and dazzled world-wide audiences of all ages.Judy Garlandstarred intwodozenof the all-time classic movie musicals, among them "A Star is Born," "Meet Me in St. Louis," "Babes in Arms"," "" Easter Parade," "For Me and My Gal," and "The Harvey Girls." Her dramaticturns in "Judgment at Nuremberg," "The Clock," and "A Child is Waiting" won addedacclaim. And perhaps most unforgettably, she starred as Dorothy Gale in the best-loved motion picture of all time: "The Wizard of Oz.""Judy: A Legendary Film Career"tells the story of Garland's movie workin unprecedented detail. Hundreds of never-before-published photos, newly-assembled contemporary reviews, insight from her costars and coworkers, and production histories are provided for each film in which she appeared. Highlighting and complimenting the feature films is a definitive biography;an examinationofJudy's short subjects; details of the movies she did not complete; and an enthrallingcompendium of film projects for which she was considered or rumored. The text is illustrated by more than five hundred photos, encompassing poster art; costume tests; behind-the-scenes candids; onstage and backstage glimpses of her theatrical successes; and personal snapshots."Judy"is the exhaustively researched work of historian John Fricke. Hecelebrates as never before the heart, humor, and incandescent motion picture achievement of the one-and-only Judy Garland.
About the Author
---
John Fricke is a two-time Emmy(R) Award winner for his work as co-producer on the PBS American Masters and A&E Biography documentaries on Judy Garland. He is also a Grammy nominee for his essay accompanying the music CD Judy Garland: 25th Anniversary Retrospective. His credits as author include The Wizard of Oz: An Illustrated Companion to the Timeless Movie Classic. John lives in New York City.
Praise For…
---
Michael Simkins, The [London] Sunday Mail
"...A wonderful book...enhanced by a comprehensive text that includes thoughtful insights from her many co-stars and coworkers. … [with] more than 600 photographs from her remarkable career, including many never seen before."
The Bay Area Reporter
"The photographs in Judy: A Legendary Career in Films are sensational. Publicity shots, stills from movies, radio, television appearances, concerts, and nightclub engagements are balanced with candid ones with friends, husbands, and children. Fricke's text adds much new material to a well-documented life. He captures her resilient spirit. Readers will want to view her movies to again appreciate her artistry."
Liz Smith
"a glorious coffee-table...a glossy, gorgeous tribute, packed with hundreds of never-before-seen photos of the star  — portraits, costume tests, on-set candids"
Film critic Leonard Maltin
"Once you pick up the handsome, oversized hardcover volume Judy: A Legendary Film Career by John Fricke (Running Press) you'll find it difficult to put down. No one knows more about Garland than Fricke, who provides an eye-popping selection of rarely-seen photos (as well as posters, sheet music, and other ephemera) to accompany his film-by-film survey, along with an overview of Judy's radio, TV, and concert work. Additional chapters deal with unrealized and rumored projects over the years. What a beautiful bouquet to a great performer."
Playbill.com 9/25/11
"This is a handsome book, filled with 500 illustrations (some in color) and weighing in at a hefty four pounds. Mr. Fricke, who has been telling us about Garland on page, screen, and liner note for years now, builds his tale around Garland's movie projects, giving us all sorts of information about each — including reviews, comments from people involved, etc. … this book offers a good — and colorful — view of her career." 
R. LeMaster, Medina Cty. Dist. Lib., OH –
Library Journal
"…Fricke's volume brings us never-before-published photos, commentary, and the most complete tribute available to one of the world's best loved stars. Highly recommended for Judy Garland fans."
Sittin' on a Backyard Fence (blog)
"In the world of star biography and filmography, it's rare to find a tribute that is not only well researched but also visually stunning.
Judy: A Legendary Film Career
by John Fricke is a perfect example of what a bio-filmography should be. …I absolutely loved
Judy: A Legendary Film Career
, and it was a pleasure to read from start to finish. I highly recommend it for Judy Garland and classic film fans alike. This is the ultimate guide to Garland's illustrious career and has the added bonus of looking wonderful on the bookshelf or table. Thanks to John Fricke, I feel like I possess the knowledge and respect to finally call myself a fan."
Windy City Times
"A sumptuous coffee table book"
ExpressMilwaukee.com
"…handsome coffee-table … Fricke is a tireless advocate for the actress and … If his enthusiasm sometimes runs away from him, his perspective is always tethered to the reality of Garland's charisma. She brought a presence even to the many forgettable or routine movies she was assigned. When she was given an important film, such as The Wizard of Oz (1939) or A Star Is Born (1954), she was unforgettable."
Cinema Gumbo
"John Fricke compounds his obvious love for his subject matter with impressive research and straightforward storytelling. In a handsome new coffee table book, Fricke chronicles every film Judy Garland ever made (and a handful she planned to make, but didn't) with striking photographs, detailed production credits and behind-the-scenes anecdotes." Zinkmagazine.com
"With over 500 images (many of them never-before-published), critic reviews and comments from her costars and coworkers, this book is a collector's item. With details of the movies she began and was unable to complete and a list o the film projects she was supposedly considered to be a part of, this book is the perfect gift for any movie buff." Daily Express (UK)
"…his glorious book spans the whole of Judy's career… Though she died at 47, Fricke concentrates on the glory years, including hundreds of photographs never before published." Boyz (UK)
"Gay icon, lost soul and fabulous singer Judy Garland is one of the greatest stars the silver screen has ever seen. Now here life on film has been commemorated in a sumptuous hardback, Judy: A legendary Film Career."
King Features Weekly Service
"John Fricke, winner of two Emmy Awards, has compiled a coffee table book that documents Garland's film work in unprecedented detail. …a fitting tribute that not only showcases Garland's film roles and achievements, but celebrates one of this country's brightest talents." Xpress Reviews at LibraryJournal.com, starred
"Fricke's volume brings us never-before-published photos, commentary, and the most complete tribute available to one of the world's best loved stars. Highly recommended for Judy Garland fans."