Search for Books
ABA Mobile Menu
Caregiving: Hope and Health for Caregiving Families (Paperback)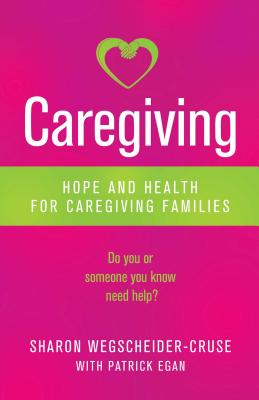 $14.95
Special Order from the publisher
Description
---
After a life-threatening accident stopped her completely in her tracks a few years ago, author Sharon Wegscheider-Cruse and her family came to truly understand that we are all one event from a lifestyle change. Former First Lady Rosalyn Carter clearly illustrated the importance of this when she said: "There are only four kinds of people in this world: those who have been caregivers; those who currently are caregivers; those who will be caregivers; and those who will need caregivers." While some people choose to take care of loved ones after they can no longer take care of themselves, many others must do so for a myriad of other reasons, often financial. It can be a crisis situation, such as an accident, or the long-term effects of aging. In any case, the days are often long and draining, both for the family caregiver and the paid professional, and the choices to be made are often confusing, difficult, and daunting.

In this illuminating book filled with practical, easily implementable advice, Wegscheider-Cruse helps readers sort through the puzzle that forms the caregiving world. Chapter topics include: identifying the roles of caregivers; how to deal with burnout; finding ways to compartmentalize and separate without guilt; using technology to make life easier; building bridges through teamwork; downsizing; and navigating end-of-life issues. Most importantly, the book offers readers a deep toolkit of invaluable suggestions for navigating tough issues with positivity and optimism. It is also the first book to provide stories from the perspective of not just the caregiver, but the caree, thus enabling caregivers to better understand their fears and feelings. The result is a positive, unified approach to care.
About the Author
---
Patrick Egan is a caregiving "gentrepreneur" who lives in Boulder, CO, and is the caregiver for his parents who live in a senior community nearby. He is the founder of NurturingNet, a company that helps others use technology in a way that enhances and adds fun to the caregiver experience. Prior to this, he served as VP of Human Resources for the Global HealthCare Exchange, created by industry-leading health care firms including Medtronic, GE, Johnson and Johnson, Abbott and Baxter International. He holds a BA in Communications from the University of Colorado and an MBA in Management from the College of St. Thomas.

Sharon Wegscheider-Cruse is the founding Chairperson of the National Association of Children of Alcoholics, and founder of Onsite Workshops. She has brought hope and healing to millions as an author, counsellor, trainer, consultant, and lecturer. She has written 19 books translated into 13 languages, and broke ground and fostered a movement with her works, Another Chance: Hope and Health for the Alcoholic Family and Learning to Love Yourself. Sharon has traveled the world and developed programs in the United States, Europe, Australia, and Canada, and has appeared on The Phil Donahue Show, The Oprah Winfrey Show and The Larry King Show, as well as in multiple media events.
Praise For…
---
"Sharon Cruse has been a given a wonderful gift. It is her ability to analyze complex feelings and behaviors and then communicate ways to live a more healthy and productive life in an easier, more understandable way. As each generation lives longer, it is crucial that we have the specific tools we need to handle the many challenging days that may come our way as we care for family and friends. We need to balance caring for others and taking care of ourselves at the same time. The caregiver must stay as healthy and strong as possible. "Patrick Egan has been and is a loving caregiver to his parents, making it possible for them to 'age in place.' His vision with technology and useful tools for seniors makes his contribution significant. He is able to take the abstract and simplify it to manageable and usable information, especially for seniors." —Sandy Coletta, MA, teacher

"Sharon has always been a pioneer, forging new trails that change the destiny of generations of innumerable souls. This book represents the next chapter of that journey. Patrick is a warm gentle soul who is inspiring an entire generation to bring consciousness to a special kind of love and caring for others." —Ted Klontz, PhD, Associate Professor of Practice of Financial Psychology and Behavioral Finance and founder and Director, Financial Psychology Institute, Creighton University, Heider College of Business

"Sharon has been both a giver and receiver of significant care over the years. In each chapter of her new book, she has stories as well as skills and perspectives that might assist all of us become better givers and receivers of caring." —Robert Moran, PhD, Professor Emeritus, author of many books including Managing Cultural Differences

"Sharon is a lifelong giver and learner wrapped in wisdom and love. Her skillful writing is passionate—filled with real-life, compelling, and instructive stories. She and her gifted son, Pat, speak as a unique team of professionals from years of multi-dimensional caregiving experiences—now ready to share their gifts of cutting-edge strategies with fresh perspectives for the demands of everyday caregiving." —Jack Williamson, U.S. Air Force Chaplain, Colonel (retired), former Executive Director for the National Conference on Ministry to the Armed Forces and Veterans Affairs Chaplaincy, Director of InterGen Impact—a University of Colorado Intergenerational Writing Course

"Sharon Wegscheider-Cruse has mentored families and professionals for decades in the art of self-care, choice-making, and negotiating intimate, professional, and extended family relationships. She now guides us along the intensely vulnerable experience of giving and receiving care as we walk into the light and darkness of physical and mental extremity. Sharon has led by her lifelong example of giving and receiving loving care. Giving voice to our often silent inner pain, Sharon again gently lights the way to respectfully walking through the last steps of our journey with those we love." —Carol D. Sexton, MD, American Board of Psychiatry and Neurology

"Sharon Wegscheider-Cruse, world-famous author and trainer, continues through her own life experiences to grow emotionally and spiritually. She finds the words to be a leader one more time, addressing a significant passage of life that we will all be facing—the need for caregiving or to be that caregiver, and often both. As always, she takes the journey with the reader." —Claudia Black, PhD, author, addiction and family trauma specialist, Senior Fellow at The Meadows addiction and psychiatric treatment program

"Sharon's new book is a simple and concise guide that provides a common language about caregiving in an easy to understand way. With a clear focus on self-care, she offers a heartfelt road map to face daily challenges in a healthy, balanced fashion. Caregiving: Hope and Health for Caregiving Families is a must read for all families." —Jerry Moe, MA, National Director of Children's Programs, Hazelden Betty Ford Foundation

"The opposite of love, is not hate... it is fear. Sharon Cruse has been a visionary leader for more than 30 years, teaching caregivers how to set healthy boundaries with those we assist, so we need not fear losing ourselves in the process of caring for them. She shares her clarity, her stories, and usable tools to help us create a kinder, more caring world for all of us. This book is her latest and most needed contribution." —Dr. Pater Alsop, PhD, CET, lecturer, humorist, songwriter, parent

"Who better than Sharon Wegscheider-Cruse and her son, Patrick Egan, to combine the practical and personal stories that bring wisdom and relief to those of us who experience the universal role of caregiver. We are not alone." —Marjorie Zugich, caregiver and former CEO of Onsite Workshops