Insignificant Others: A Novel (Paperback)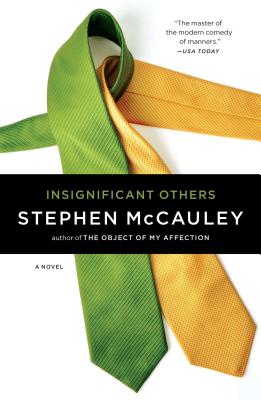 $16.99
Usually Ships in 1-5 Days
Description
---
WHAT DO YOU DO WHEN YOU DISCOVER YOUR INSIGNIFICANT OTHER IS BECOMING MORE SIGNIFICANT THAN YOUR SPOUSE?

Richard Rossi works in HR at a Boston-based software company and prides himself on his understanding of the foibles and fictions we all use to get through the day. Too bad he's not as good at spotting such behavior in himself. What else could explain his passionate affair with Benjamin, a very unavailable married man? Richard is also not entirely available himself—there's Conrad, his adorable if maddening partner to contend with. But when Conrad starts spending a suspicious amount of time in Ohio, and economic uncertainty challenges Richard's chances for promotion, he realizes his priorities might be a little skewed.
About the Author
---
Stephen McCauley is the author of Alternatives to Sex, True Enough, The Man of the House, The Easy Way Out, and The Object of My Affection. He lives in Cambridge, Massachusetts. Visit his website at www.stephenmccauley.com.
Praise For…
---
"The master of the modern comedy of manners." —USA Today

"Charming…McCauley displays terrific comic insight about our penchant for denial while still revealing a great deal of compassion for human foibles." —Connie Ogle, The Miami Herald

"A sparkling writer . . . he tosses off witticisms with the alacrity of a Noel Coward and Oscar Wilde." —Heller McAlpin, NPR.org

"Insignificant Others is vintage McCauley, offering up the usual mixture of hilarity, pathos, irony, and regret. It's The Office meets Jane Austen, with a twist." —Mameve Medwed

"A novel with pithy observations, lightness of touch, and generosity of spirit." —Kirkus Reviews