Insignificant Others (Hardcover)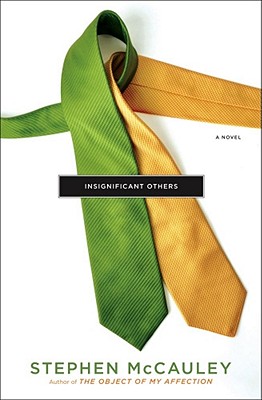 $25.00
Email or call for price.
Description
---
What do you do when you discover your spouse has an insignificant other?
How about when you realize your own insignificant other is becoming more significant than your spouse?
There are no easy answers to these questions, but Stephen McCauley—"the master of the modern comedy of manners" (USA Today)—makes exploring them a literary delight.
Richard Rossi works in HR at a touchy-feely software company and prides himself on his understanding of the foibles and fictions we all use to get through the day. Too bad he's not as good at spotting such behavior in himself.
What else could explain his passionate affair with Benjamin, a very unavailable married man? Richard suggests birthday presents for Benjamin's wife and vacation plans for his kids, meets him for "lunch" at a sublet apartment, and would never think about calling him after business hours.
"In the three years I'd known Benjamin, I'd come to think of him as my husband. He was, after all, a husband, and I saw it as my responsibility to protect his marriage from a barrage of outside threats and bad influences. It was the only way I could justify sleeping with him."
Since Richard is not entirely available himself—there's Conrad, his adorable if maddening partner to contend with—it all seems perfect. But when cosmopolitan Conrad starts spending a suspicious amount of time in Ohio, and economic uncertainty challenges Richard's chances for promotion, he realizes his priorities might be a little skewed.
With a cast of sharply drawn friends, frenemies, colleagues, and personal trainers, Insignificant Others is classic McCauley—a hilarious and ultimately haunting social satire about life in the United States at the bitter end of the boom years, when clinging to significant people and pursuits has never been more important—if only one could figure out what they are.
Praise For…
---
"The master of the modern comedy of manners." —USA Today



"Charming…McCauley displays terrific comic insight about our penchant for denial while still revealing a great deal of compassion for human foibles." —Connie Ogle, The Miami Herald



"A sparkling writer . . . he tosses off witticisms with the alacrity of a Noel Coward and Oscar Wilde." —Heller McAlpin, NPR.org



"Insignificant Others is vintage McCauley, offering up the usual mixture of hilarity, pathos, irony, and regret. It's The Office meets Jane Austen, with a twist." —Mameve Medwed



"A novel with pithy observations, lightness of touch, and generosity of spirit." —Kirkus Reviews