Search for Books
ABA Mobile Menu
The March (Compact Disc)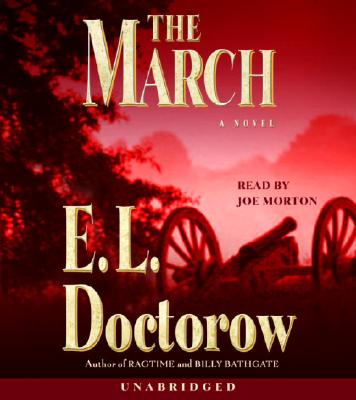 $39.95
Special Order from the publisher
Description
---
In 1864, after Union general William Tecumseh Sherman burned Atlanta, he marched his sixty thousand troops east through Georgia to the sea, and then up into the Carolinas. The army fought off Confederate forces and lived off the land, pillaging the Southern plantations, taking cattle and crops for their own, demolishing cities, and accumulating a borne-along population of freed blacks and white refugees until all that remained was the dangerous transient life of the uprooted, the dispossessed, and the triumphant. Only a master novelist could so powerfully and compassionately render the lives of those who marched.

The author of Ragtime, City of God, and The Book of Daniel has given us a magisterial work with an enormous cast of unforgettable characters–white and black, men, women, and children, unionists and rebels, generals and privates, freed slaves and slave owners. At the center is General Sherman himself; a beautiful freed slave girl named Pearl; a Union regimental surgeon, Colonel Sartorius; Emily Thompson, the dispossessed daughter of a Southern judge; and Arly and Will, two misfit soldiers.

Almost hypnotic in its narrative drive, The March stunningly renders the countless lives swept up in the violence of a country at war with itself. The great march in E. L. Doctorow's hands becomes something more–a floating world, a nomadic consciousness, and an unforgettable reading experience with awesome relevance to our own times.
About the Author
---
E. L. Doctorow's work has been published in thirty languages. His novels include "The March, City of God, Welcome to Hard Times, The Book of Daniel, Ragtime, Loon Lake, Lives of the Poets, World's Fair, Billy Bathgate, " and "The Waterworks." Among his honors are the National Book Award, two PEN/Faulkner awards, three National Book Critics Circle awards, the Edith Wharton Citation for Fiction, the William Dean Howells Medal of the American Academy of Arts and Letters, and the presidentially conferred National Humanities Medal. He lives in New York. "From the Hardcover edition."
Praise For…
---
Praise for E. L. Doctorow

"E.L. Doctorow is a national treasure."
–St. Louis Post-Dispatch

"Beautifully written, meticulously plotted, scrupulously imagined."
–The New York Times Book Review, about Sweet Land Stories

"In the assured hands of Doctorow, City of God blooms with a humor and a humanity that carries triumphant as intelligent a novel as one might hope to find these days."
–Los Angeles Times, about City of God

"A ferocious feat of the imagination . . . Every scene is perfectly realized and feeds into the whole–the themes and symbols echoing and reverberating."
–Newsweek, about The Book of Daniel

"One devours it in a single sitting."
–The New York Times, about Ragtime


"Marvelous . . . You get lost in World's Fair as if it were an exotic adventure. You devour it with the avidity usually provoked by a suspense thriller."
–The New York Times, about World's Fair