Pagan Curious: A Beginner's Guide to Nature, Magic & Spirituality (Paperback)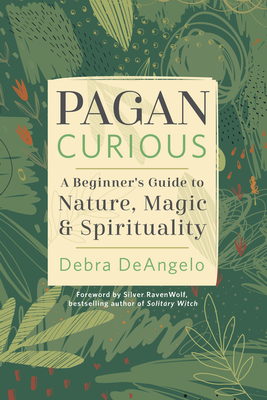 Description
---
Indulge Your Curiosity About Paganism
Explore the many facets of the Pagan community with this delightful guide for the complete beginner. Debra DeAngelo teaches you the ABCs and 123s of Paganism with introductions to spiritual practices and magic as well as skills like grounding, centering, and meditation. Become reacquainted with your true, natural self, learn to work with plants, animals, and the stars, and discover the tantalizing mysteries of magic and mysticism.
Join DeAngelo for a tour of the colorful, diverse garden that is Paganism. With thoughtful self-reflection exercises, this book gives you a deeper understanding of your personal beliefs so you can orient yourself in that garden. You will learn how to celebrate Pagan sabbats, develop your intuition, create an altar, and meet Pagan deities. With dozens of activities, spells, meditations, affirmations, and more, Pagan Curious will enchant your spirit and help you create the magical life you've been seeking.
About the Author
---
Debra DeAngelo has been a massage practitioner for more than twenty years. She runs her own private practice where she incorporates spiritual techniques into every session. In addition to developing her own method called "Blended Deep Swedish Massage," Debra is certified in hot stone, ayurvedic, reflexology, reiki, and other massage styles. She also writes feature stories and book reviews for SageWoman and Witches & Pagans magazines. Visit her at DebraDeAngelo.com.Silver RavenWolf (Pennsylvania) is a nationally recognized leader and elder of Wicca, and her writing has been instrumental in guiding the future of one of the fastest-growing faiths in America today. The author of many books, she has been interviewed by The New York Times, Newsweek Magazine, and the Wall Street Journal, and her work has been featured in numerous publications, including Bust Magazine, the Baltimore Sun, the St. Petersburg Times, the National Review, Publishers Weekly, Body & Soul Magazine, and Teen Lit Magazine. Her titles include the bestselling Solitary Witch, Teen Witch, To Ride A Silver Broomstick, To Stir A Magick Cauldron, To Light A Sacred Flame, American Folk Magick, Angels: Companions in Magick, Silver's Spells for Prosperity, Silver's Spells for Protection, Silver's Spells for Love, Halloween, HedgeWitch, and the Witches' Night Out teen fiction series.