The Secret Psychic: Embrace the Magic of Subtle Intuition, Natural Spirit Communication, and Your Hidden Spiritual Life (Paperback)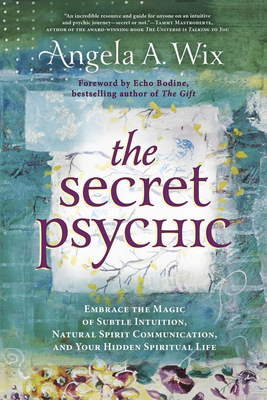 $19.99

NOT on our shelves - Usually Ships in 1-5 Days
Description
---
Unite Your Hidden Spiritual Life with Your Everyday Reality
This unique and inspiring resource shows you how to practice your subtle energetic abilities and fully embrace your spiritual nature--even if you feel like you can't yet be open about it with those around you. Angela A. Wix answers your burning questions about what it means to be a secret psychic, how to overcome common challenges, and how to integrate your experience so you don't feel stuck. The Secret Psychic also helps you understand spirit communication and offers guidance on how to reveal your hidden self to others when you're ready. In addition to more than twenty hands-on practices, you'll find empowering support from professional psychics, mediums, and intuition experts, including:
- Melanie Barnum
- Cyndi Dale
- Sherrie Dillard
- Granddaughter Crow (Dr. Joy Gray)
- John Holland
- Jodi Livon
- Danielle MacKinnon
- Michael Mayo
- Chanda & Troy Parkinson
- Kristy Robinett
- Jurema Silva
About the Author
---
Angela A. Wix (Western Wisconsin) has acquired body-mind-spirit titles for Llewellyn Worldwide. She is a Certified Medical Reiki Master (CMRM), Certified Massage Therapist (CMT), and lifelong intuitive medium-in-training. She is the author of The Secret Psychic and Llewellyn's Little Book of Unicorns, and she has contributed her art and writing to additional Llewellyn titles, including Finding Your Calm, Llewellyn's 2025 Magical Almanac, and Llewellyn's Complete Book of Mindful Living. For more, visit her on Facebook and Instagram @AngelaAWix or online at www.AngelaAnn.Wix.com/arts.