Tainted Mountain (Nora Abbott Mysteries) (Paperback)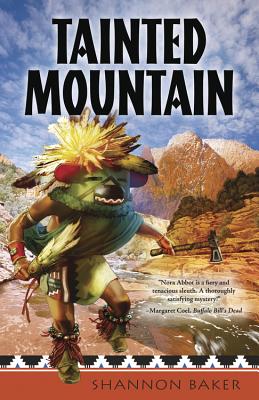 $14.99
Email or call for price.
Description
---
Nora Abbott needs to make enough snow to save her ski resort from the drought that is ravishing Northern Arizona, and her recent court victory should mean good times are ahead. But when the death of Nora's husband brings her overbearing mother into town, energy tycoon Barrett McCreary uses the opportunity to launch what might just be a hostile takeover of her cash-strapped resort.
To make matters worse, the local Hopi tribe still claims that making snow on the mountain will upset the balance of the earth, and someone is taking matters into their own hands in an explosive way. The ruggedly handsome Cole Huntsman keeps turning up to help Nora, but he seems to be dealing from both sides of the deck. And with a business empire's profits--not to mention lives--at stake, double-dealing is a deadly strategy.
Praise:
"Baker's series debut brings Native American culture and big business together into a clash that can be heard across the mountains.--Library Journal
"A thoroughly satisfying mystery Shannon Baker captures the grandeur and fragility of the Western landscape while keeping the pages turning."--Margaret Coel, New York Times bestselling author of Buffalo Bill's Dead Now
Tainted Mountain is a story as mysterious and beautiful as the Arizona landscape in which it's set. Shannon Baker offers readers a taut, cautionary tale that is a deft mix of both important contemporary issues and the timeless spiritual traditions of the Hopi. For those of us who hunger for the kind of novel Tony Hillerman used to write so well, this promising new series may just fill the bill. Pick up Tainted Mountain and prepare to be entranced.--William Kent Krueger, New York Times Bestselling Author of The Cork O'Connor Series
Pitting greed against the future of a people, Baker's thoughtful thriller, Tainted Mountain, not only presents a compelling clash of myth and violence that will keep you guessing, it also reads like such a love letter to the natural world, you won't want it to end.--Kris Neri, author of Revenge on Route 66
About the Author
---
Shannon Baker (McCook, NE) can often be found backpacking, skiing, kayaking, cycling, or just playing lizard in the desert. From the Colorado Rockies to the Nebraska Sandhills, the peaks of Flagstaff and the deserts of Tucson, landscapes play an important role in her books. She is a member of SinC, MWA, and Rocky Mountain Fiction Writers.  Baker was named the Rocky Mountain Fiction Writers 2014 Writer of the Year.  Visit her online at Shannon-Baker.com.