The New Rules of Marathon and Half-Marathon Nutrition: A Cutting-Edge Plan to Fuel Your Body Beyond "the Wall" (Paperback)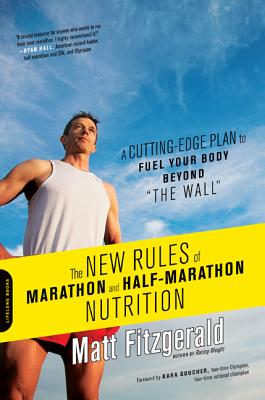 $17.99

If not in stock, we can Special Order from the publisher
Description
---
From basic tenets of training to nutrition guidelines,this is the first resource for runners to fully integrate nutrition with training for a complete and systematic pre-race plan. "A must for marathoners"(Library Journal).

Every year, roughly 2 million people participate in marathons and half marathons in the United States, and, no matter what level they are, every one of these runners has likely hit "The Wall," running out of muscle fuel in the final miles and slowing down precipitously. This setback and other common running disappointments are nutritional (or metabolic) in nature. In The New Rules, renowned fitness journalist and training coach Matt Fitzgerald cuts through the myths,distilling the most up-to-date science to help runners overcome the universally experienced nutritional barriers that prevent success in the marathon and half marathon.

Fitzgerald's powerful and easy-to-use tools will enable runners of all levels to attain their ideal racing weight, calculate their precise daily energy needs, and formulate a custom nutrition plan.
About the Author
---
Matt Fitzgerald is an endurance sports writer, nutritionist, and author of more than twenty books. He is a coach and spokesperson for PEAR Sports and former senior editor at Triathlete and Competitor. Fitzgerald has contributed to Men's Health, Outside, Runner's World, Shape, and other publications. He lives in Northern California with his wife, Nataki.
Praise For…
---
Library Journal, March 2013
"Extremely well done . . . A must for marathoners!"

Portland Book Review, 4/21/13
"You will gain valuable information and insight about how to fuel your body from this book."

San Francisco / Sacramento Book Review (website), 5/9/13
"Written in a friendly and approachable manner and colored with many anecdotal stories from elite running history, this book is an easy and informative read that can help propel your runs to the next level."

WomanAroundTown.com, 9/7/13
"Fitzgerald gives sound advice to conquer the obstacle that blocks many runners from finishing their race . . . If you know a marathoner, you'll make a fast--very fast--friend by gifting this book."

RunnersWorld.com, 12/17/2013
"[Fitzgerald's] perspective on hotly contested topics in sports science is always well-informed, practical, and leavened with enough skepticism to avoid jumping on and off every passing bandwagon . . . He's entirely reasonable in differentiating between proven 'you must do this' tactics, and more speculative 'experiment with this if you're interested' tactics . . . A nice intro to endurance nutrition."