Fully Present: The Science, Art, and Practice of Mindfulness (Paperback)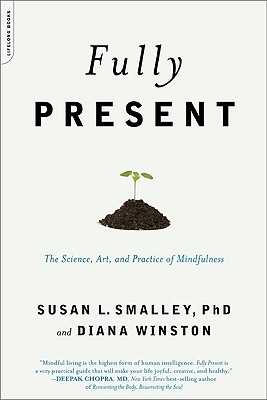 $17.99
Email or call for price.
Description
---
From Buddhist traditions to daily exercises, enhance your physical and mental health with the ultimate practical guide to mindfulness from two leading experts.

Mindfulness -- the art of paying attention with an open and curious mind to present-moment experiences--has attracted ever-growing interest and tens of thousands of practitioners, who have come to the discipline from both within and outside the Buddhist tradition. In Fully Present, leading mindfulness researchers and educators Dr. Sue Smalley and Diana Winston provide an all-in-one guide for anyone interested in bringing mindfulness to daily life as a means of enhancing well-being. Fully Present provides both a scientific explanation for how mindfulness positively and powerfully affects the brain and the body as well as practical guidance to develop both a practice and mindfulness in daily living, not only through meditation but also during daily experiences, such as waiting in line at the supermarket, exercising, or facing difficult news.
About the Author
---
Susan Smalley, PhD, is Professor Emeritus in the Department of Psychiatry at UCLA. The founder of the Mindful Awareness Research Center (MARC) at UCLA, she currently serves on the Board of Equality Now, a human rights organization dedicated to gender equality. She lives in Southern California.

suesmalley.com

Diana Winston, a former Buddhist nun who has been teaching mindfulness since 1993, is the director of Mindfulness Education at UCLA's MARC. She lives in Southern California.

dianawinston.com
Praise For…
---
Library Journal, 6/22/10
"Excellent. Fully Present offers one of the clearest introductions to mindfulness in the field."
Cincinnati
Parent, 8/13/10
"[The authors'] collaboration in
Fully Present
draws on their expertise and experience in ways that readers can totally relate to…Take your time with this one. It's that good." 
"Seamlessly combines easy-to-read reports on scientific research with first-person accounts and practice instructions...A lively read."
—
Mindful