Dr. Susan Love's Breast Book: 4th Edition (A Merloyd Lawrence Book) (Paperback)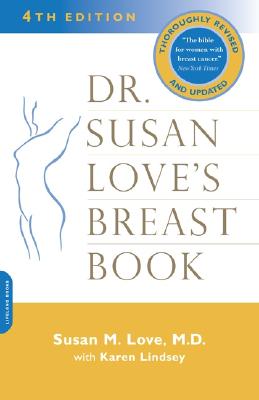 List Price: $22.95
Our Price: $11.00
(Save: $11.95 52%)
On Our Shelves Now. Click on the title to see details.
Description
---
Recent research is rapidly changing the diagnosis, treatment, and outcomes of breast cancer. Just as women afflicted with or worried about breast cancer have turned to the earlier editions of Dr. Susan Love's guide for the soundest, most supportive advice, once again they will find all the help they need in this new edition. From guidance on screening techniques and benign disease to comprehensive and heartening advice on living with breast cancer, Dr. Love's book will be a priceless help to recovery on every level, medical, practical, and psychological. Once again readers will lean with gratitude on the extraordinary empathy and expertise in the book that Newsweek called "One of the most complete and trustworthy books ever published on breast cancer."
About the Author
---
Susan M. Love, MD, MBA, is Clinical Professor of Surgery at UCLA and President and Medical Director of the Dr. Susan Love Research Foundation. A founder of the National Breast Cancer Coalition, she was appointed to the National Cancer Advisory Board by President Clinton.

Karen Lindsey has coauthored all editions of Dr. Susan Love's Breast Book.
Praise For…
---
"The woman who almost singlehandedly brought public attention to the mammillary part of our bodies keeps the updates coming."
—Library Journal, -

"[Dr. Susan Love is] one of the country's leading experts on breast cancer."
—Los Angeles Times, -

"A candid, authoritative, and splendidly well-written guide for women facing a diagnosis, decisions about treatment and concerns about prevention of breast cancer...Highly recommended."
—Choice, -

"They don't call it 'the bible of breast care' for nothing."
—Better Homes and Gardens, -

"The title people turn to with questions about breast health as well as disease. This latest iteration...addresses metastatic breast cancer and the longer survival rates of its sufferers, making breast cancer more and more like a chronic disease...Love is the go-to for all matters of the breast."
—Library Journal (starred review), -

"Extensive, readable, well-organized, and contains solid references...Dr. Susan Love's Breast Book is Breast Cancer 101, the necessary foundation and springboard for understanding the fundamentals of breast cancer and treatment. Armed with the knowledge, background, and questions raised in this book, anyone would be equipped to enter the zone of medical uncertainty surrounding breast cancer to ask more questions, get more answers, and learn what they need to know to make the decisions that are right for them."
—Breast Cancer Consortium, -

"Striking a blow to the old approach that more is better, Dr. Love writes that it's not just a matter of having cells with mutations of cancer but also an environment egging them on."
—Tucson Citizen, -

"Many shifts in breast health science make this massive coverage a key acquisition for any health library."
—Midwest Book Review, -

"The essential breast cancer book...For more than 25 years, Dr. Susan Love's Breast Book has been the best source of information for women with breast cancer...A valuable read for oncology fellows or medical students toying with the idea of pursuing a career in oncology...Clear and accurate writing...The chapters on diagnosis and treatment are written with firm delicacy...Women reading this material will come away better informed and less fearful...Dr. Love empowers her readers to be strong advocates for their breast health....Highly recommended."
—ASCO Post, -

"More than a bible for those newly diagnosed with breast cancer. It's now also a guide for survivors, those at risk and anyone who wants to understand the environmental connection."
—Heart & Soul, -

"The seminal work for any woman facing the disease."
—Los Angeles Time Magazine, -

"Dr. Love writes with optimism about advances in the science of breast cancer diagnosis...She won't lead you astray. For newly-diagnosed breast cancer patients, this book is still a great guide."
—About.com, -

"An essential companion, with remarkably accessible information."
—St. Petersburg Times, -

"Comprehensive and candid."
—Northern Virginia Magazine, -

"An owner's manual for breasts."
—January, -

"The go-to guide for millions of women concerned about breast disorders--cancer in particular...A definitive resource...Presents[s] technical information in clear prose meant to be understood by the average woman...deserve[s] a place on every breast cancer patient's bookshelf."
—Energy Times, -

"Any woman facing a diagnosis, decisions about treatment or concerns about prevention will find in Dr. Love's book the information, guidance and the reassurance she needs."
—Marion Star & Mullins Enterprise, -

"Written by one of the nation's most trusted experts, [it] can help lessen the fear and confusion of a breast cancer diagnosis."
—More.com, -

"A classic in the field."
—Spokane Spokesman-Review, -

"Anchoring the literature is Dr. Susan Love's Breast Book...This is the definitive source for information."
—Shelf Awareness, -