An Atlas of Lost Kingdoms: Discover Mythical Lands, Lost Cities and Vanished Islands (Lost Atlases #1) (Hardcover)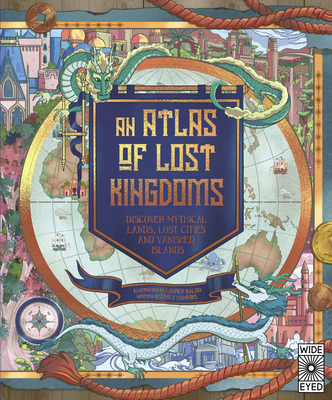 $30.00

NOT on our shelves - Usually Ships in 1-5 Days
Description
---
Shortlisted for Children's Travel Book of the Year, Edward Stanford Travel Writing Awards 2023

On this quest around the world, you will discover lost kingdoms, phantom islands, and even legendary continents once sought by explorers but now believed to be mythical.

For centuries, people have dreamed of finding the lost worlds of Atlantis, El Dorado, and the Seven Cities of Gold. As well as shedding light on these famously elusive places, this atlas contains maps and captivating illustrations to illuminate lesser-known destinations, from the lost island of Hy-Brasil to the desert city of Zerzura. You will learn about rich mythologies from different cultures, from the Aztecs to the ancient Britons, from the Greek legends to Japanese folklore.
 
Most of the places in this book have never been found, but within these pages you will succeed where the adventurers of the past were thwarted. Learn about ancient maps, age-old manuscripts, and cryptic carvings that reveal clues to the whereabouts of these lost kingdoms. The journey will transport you to thoroughly other-worldly places.

From Emily Hawkins—New York Times bestselling author of Oceanology—comes this whimsical blend of myth and history, fact and fantasy. This lavish volume will fire the imaginations of young adventurers everywhere.
About the Author
---
Once a children's book editor, Emily Hawkins is now a full-time author. Her work has been featured on the New York Times bestseller list (Oceanology, 2009) as well as winning the Children's Travel Book of the Year Award (Atlas of Animal Adventures, 2016). Along with her background in children's non-fiction Emily has a strong interest in myth, folklore and storytelling. In 2020 she wrote A Natural History of Fairies, which has been translated into twelve languages, selling more than 100,000 copies worldwide. Emily holds a first-class English degree from Nottingham University, and lives in Winchester, UK.
Lauren Baldo is an illustrator based in the Philippines. He has worked as a storyboard artist, comic artist, graphic designer, and children's book illustrator.
Praise For…
---
"The author of A Natural History of Fairies explores lost kingdoms and mythical places, from the island of Hy-Brasil to the desert city of Zerzura. Published in a highly illustrated, large-format hardback."—The Bookseller

"A fascinating blend of myth and history, this book will have the curiosity of every reader piqued."—Armadillo Magazine

"Reading this book is like going on an amazing journey!"—Storytime Magazine