Island on Fire: The Revolt That Ended Slavery in the British Empire (Paperback)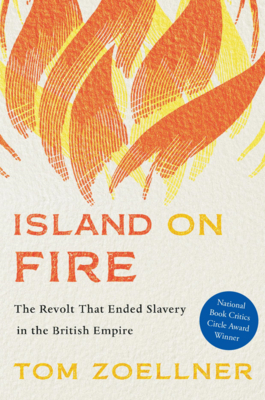 $18.95

On Our Shelves Now. Click on the title to see details.
Description
---
Winner of the National Book Critics Circle Award
"Impeccably researched and seductively readable...tells the story of Sam Sharpe's revolution manqu , and the subsequent abolition of slavery in Jamaica, in a way that's acutely relevant to the racial unrest of our own time." --Madison Smartt Bell, author of
All Souls' Rising
The final uprising of enslaved people in Jamaica started as a peaceful labor strike a few days shy of Christmas in 1831. A harsh crackdown by white militias quickly sparked a full-blown revolt, leaving hundreds of plantation houses in smoking ruins. The rebels lost their daring bid for freedom, but their headline-grabbing defiance triggered a decisive turn against slavery.
Island on Fire
is a dramatic day-by-day account of these transformative events. A skillful storyteller, Tom Zoellner uses diaries, letters, and colonial records to tell the intimate story of the men and women who rose up and briefly tasted liberty. He brings to life the rebellion's enigmatic leader, the preacher Samuel Sharpe, and shows how his fiery resistance turned the tide of opinion in London and hastened the end of slavery in the British Empire. "Zoellner's vigorous, fast-paced account brings to life a varied gallery of participants...The revolt failed to improve conditions for the enslaved in Jamaica, but it crucially wounded the institution of slavery itself." --Fergus M. Bordewich,
Wall Street Journal
"It's high time that we had a book like the splendid one Tom Zoellner has written: a highly readable but carefully documented account of the greatest of all British slave rebellions, the miseries that led to it, and the momentous changes it wrought." --Adam Hochschild, author of
Bury the Chains