The 100: New and Classic Monologues for Children & Young Adults (Paperback)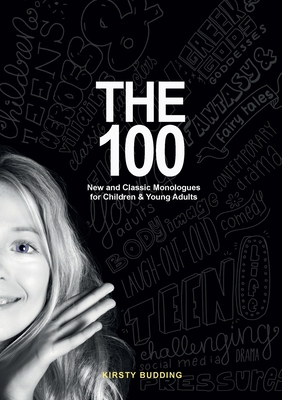 $19.19

NOT on our shelves - Usually Ships in 1-5 Days
Description
---
Perfect for auditions, drama classes and performances...
THE 100 offers a hundred new and classic monologues for children and young adults.
Written by award-winning playwright Kirsty Budding, the collection includes a helpful prologue with advice on performing monologues, followed by conveniently organised thematic sections with illustrations to indicate drama or comedy:
Fantasy & Fairytales (Fairies, Mermaids, a crazy Harry Potter fan and more );
Greek & Norse Mythology (Thor, Loki, Zeus, Hercules, Hades, Medusa...);
Teen Life (exam stress, romance, social media, sibling rivalry, cyber bullying...);
Secret Agents & Espionage (meet James Blonde and the agent who trained John Wick );
Comedy (laugh out loud as kids play teachers, dance divas, the Queen of England and more );
Drama (loss of grandparents, moving schools, growing up...),
Classic Literary Characters (Oliver Twist, Jo March, Jane Eyre...);
Historical Figures (Julius Caesar, Elizabeth I, Martin Luther King Jr...);
Christmas (Scrooge, Spoilt Child, Little Elf...)
Shakespeare (Romeo, Romeo; To Be or Not to Be...)
Perfect for auditions, school drama classes and performances, length and difficulty levels range to provide exciting options for children and teenagers ages 5-19. The book is ideal for families with children of different ages, as well as for use in schools with multiple year groups.
With a range unheard of in a monologue collection, it's the perfect resource for a young performer to use again and again on their acting journey.
"Playing Thor is awesome I just love all of it, it's super funny " - Harper Scott, age 9
"I love the 'Messy Room' monologue I think my Mum does too..." - Breanna Kelly, age 15
"I really enjoyed performing the School Principal monologue - great writing and a funny and relatable scenario " - Robert Wearden, age 17
"I admire Kirsty Budding's dry humour and wit in the monologue Almost Twenty. It got lots of laughs when I performed it for a university assignment because everyone could relate to those challenges and frustrations of becoming an adult." - Cecilia Waugh, age 19
"Kirsty Budding is a name to watch." - Stage Whispers