The ABCs of Bridge: Clear, Up-to-Date Instruction on Standard Bidding, Play and Defense for Beginners and Those Who Want to Take a Fresh Look at the World's Most Popular Ca (Paperback)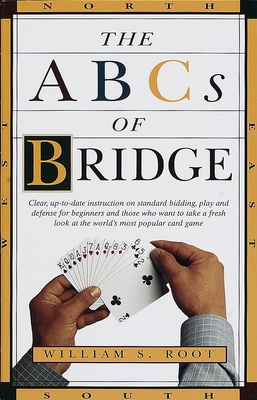 $18.00

If not in stock, we can Special Order from the publisher
Description
---
William S. Root, winner of many national bridge championships, premier bridge teacher, author of classic bridge books, and recently elected to the Bridge Hall of Fame, is one of America's foremost bridge personalities.
        
As a player, Bill Root has won all three of the most important American trophies (the Vanderbilt, the Spingold, and the Reisinger) a total of thirteen times. He has represented the United States in the Bridge Olympiad; in the Bermuda Bowl; and on exhibition tours to South Africa, Australia, and New Zealand. He is rated a World Master by the World Bridge Federation.
        
As a bridge teacher, Bill is considered to be one of the best of all time and has helped tens of thousands to enjoy the world's most popular card game. He has been the director for the National Intercollegiate Bridge Tournament and has served as Card Games Authority for the Association of American Playing Card Manufacturers, making him the modern-day Hoyle for the 120 million card players in America.
        
His many best-selling bridge books include Commonsense Bidding, How to Play a Bridge Hand, and How to Defend a Bridge Hand (all of which won the Book of the Year title awarded by the American Bridge Teachers' Association.) He also coauthored the popular Modern Bridge Conventions with Richard Pavlicek.
About the Author
---
William S. Root (1923–2002) was an American professional bridge player who was also a noted teacher and writer about the game. He was inducted into the American Contract Bridge League Hall of Fame in 1997, and was author of several acclaimed books on bridge, including Commonsense Bidding: The Most Complete Guide to Modern Methods of Standard Bidding and How to Play a Bridge Hand: 12 Easy Chapters to Winning Bridge by America's Premier Teacher.