Lei and the Fire Goddess (Hardcover)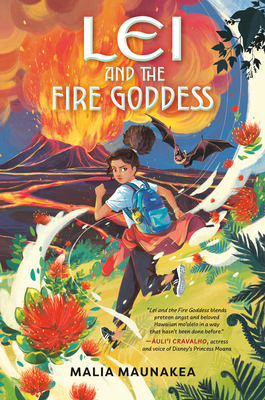 For every copy pre-ordered between April 10th and June 6th, 2023, Penguin Random House will donate a book, up to 500 copies, to Partners in Development Foundation, an organization that inspires and equips families and communities for success using timeless Native Hawaiian values and traditions.
Description
---
"Lei and the Fire Goddess blends preteen angst and beloved Hawaiian moʻolelo in a way that hasn't been done before." —Auliʻi Cravalho, actress and voice of Disney's Princess Moana

Curses aren't real.

At least, that's what twelve-year-old, part-Hawaiian Anna Leilani Kamaʻehu thinks when she listens to her grandmother's folktales about sacred flowers and family guardians. Anna's friends back home in Colorado don't believe in legends, either. They're more interested in science and sports—real, tangible things that stand in total contrast to Anna's family's embarrassing stories.

So when Anna goes back to Hawaiʻi to visit her Tūtū, she has no interest in becoming the heir to her family's history; she's set on having a touristy, fun vacation. But when Anna accidentally insults Pele the fire goddess by destroying her lehua blossom, a giant hawk swoops in and kidnaps her best friend, and she quickly learns just how real these moʻolelo are. In order to save her friends and family, Anna must now battle mythical creatures, team up with demigods and talking bats, and evade the traps Pele hurls her way.

For if Anna hopes to undo the curse, she will have to dig deep into her Hawaiian roots and learn to embrace all of who she is.
About the Author
---
Malia Maunakea is a part-Hawaiian writer who grew up in the rainforest on the Big Island before moving to a valley on Oʻahu in seventh grade. She relocated to the continent for college, and when she isn't writing can be found roaming the Colorado Rocky Mountains with her husband, their two children, and a rescue mutt named Peggy. You can find Malia online at maliamaunakea.com and @MaliaMaunakea on Twitter.
Praise For…
---
An Amazon Best Book of the Month
A School Library Journal Best Book of the Year
A Center for the Study of Multicultural Children's Literature Best Book of the Year
A Common Sense Media Selection

"This exciting, fast-paced adventure is full of humor and action. Hawaiian cultural elements are seamlessly woven into the story, giving just enough context for those unfamiliar with them without taking away from the narrative. An exhilarating, adventure-filled celebration of Hawaiian culture." —Kirkus Reviews, starred review

"Maunakea displays mastery in weaving Hawaiian words, mythological references, and legendary Hawaiian figures into her story in a manner that draws readers' attention to the richness of the traditions and beauty of Hawai'i. . .this story belongs in the hands of middle grade readers who love adventure fiction and mythological elements, as well as those who wish to find an example of rediscovering pride in one's culture and identity." —School Library Journal

"Anna feels too Hawaiian to fit in at school, but too haole, or white, to feel at home in Hawaii—a struggle that aptly center themes of identity and connection in Maunakea's energetic, adventuresome debut." —Publishers Weekly

"The author sensitively portrays the way her half-white protagonist wrestles with her identity . . . an exciting adventure in an uncommon, perceptively drawn setting." —Booklist