I Am Diosa: A Journey to Healing Deep, Loving Yourself, and Coming Back Home to Soul (Paperback)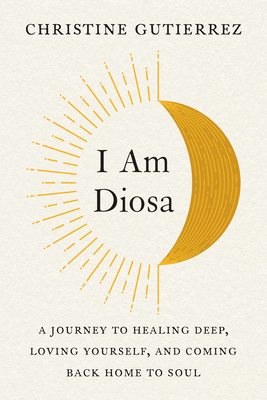 List Price: $18.00
Our Price: $17.00
(Save: $1.00 6%)
Description
---
This raw and relatable guide to radical self-care and self-love empowers readers to embrace the powerful Diosa within.

In this fiercely inspiring book, psychotherapist Christine Gutierrez welcomes women to join her in healing the wounds from past hurt or trauma to reclaim their worth and come back home to their true self and soul.

Diosa is the Spanish word for Goddess. A diosa is anyone who honors the primal feminine energy in the world and within themselves. According to Gutierrez, diosas face obstacles in their lives but are always ready and willing to go to their core to reclaim their inner worth and self-esteem. They are the ones that rise from the ashes and dare to piece themselves back together bone by bone and soul piece by soul piece. From stories of resilience from both Gutierrez and members of her Diosa Tribe, to mantras, meditations, and guided journaling prompts, this book gives women the tools they need to honor their sacred feminine and become who they were always meant to be.

I Am Diosa will inspire women to give themselves permission to feel, to be seen, to be heard, and to return to their truest selves.
About the Author
---
Christine Gutierrez, MA, LMHC is a Latina licensed psychotherapist, life coach and expert in love addiction, trauma, abuse, and self- esteem. She has a Bachelor's degree from Fordham University in human behavior and development, and a Master's degree from City College of New York in mental health counseling with a focus on community and prevention. Through her work, Christine offers private coaching, group coaching, and transformational retreats such as her annual Diosa Retreat in Puerto Rico, as well as the Diosa Tribe, a global community where like- hearted women come to heal, rise, and lead. She has been featured in Time Out NY, Latina Magazine, Yahoo Health, Ebony, Cosmo for Latinas, Huffington Post, and others. Christine currently resides in Puerto Rico with her husband Fernando Samalot and their pup Bodhi. For more on her work, visit christineg.tv and follow her on Instagram @CosmicChristine.

Regional interest locations: Miami, Southern California, and Texas.
Praise For…
---
"Gutierrez's words are at the same time raw and elegant, ancient and modern. It's exactly what's needed for the future we need to create. I Am Diosa is for every modern woman who craves a wisdom that's been denied to us for too long. Read and USE this magical book."
—Rebekah Borucki, mother, author, and advocate
 
 
"Christine Gutiérrez is a brilliant and powerful force who embodies everything she teaches. I Am Diosa walks you through the inner process of understanding your past and healing your wounds so that you can live a vibrant, authentic and empowered life. I Am Diosa is for those who are ready for serious transformation.
—Yung Pueblo, author of Inward
 
 
"Finally, a book that beautifully and effectively combines a psychologically grounded perspective with ancient wisdom for cultivating self-love, self-care and deep healing. I Am Diosa is a step-by-step guide to true transformation and authentic empowerment."
—Terri Cole, licensed psychotherapist
 
 
"I Am Diosa is the book we all need right now. Christine masterfully weaves psychology, soul, and her compelling personal story as an offering to come back home to our true, unbroken, and Diosa selves. I Am Diosa is raw and real, and though Christine is an "expert" and therapist, she speaks in the language of an hermana. She is a welcome and much-needed voice in the all-too-white world of "self-help." Christine's gift is that she speaks from the wholeness of her truth leaving nothing out—shadow, trauma, or addiction. She has worked hard to heal, she has earned her scars, and her journey is our initiation." 
—Robyn Moreno, author & Curandera