Jumper (Hardcover)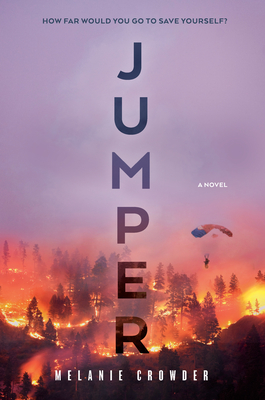 $18.99

On Our Shelves Now. Click on the title to see details.
Description
---
In a ripped-from-the-headlines story, nineteen-year-old Blair's passion for fighting fires lands her a spot with the Forest Service and sets her on a wilderness adventure that quickly turns catastrophic.

How far would you go to save yourself?

Blair Scott is in her second season as a wildland firefighter when the Forest Service puts out a call for an additional class of smokejumpers. She and her best friend Jason both apply, though neither expects to get in since they're only nineteen. But it's been a devastating fire season, and they are both accepted. But going to training camp is only the first step—everyone expects the teenage rookies will wash out in the first week. Blair has always been touchy about people telling her she isn't good enough, so she begins taking unnecessary risks to prove herself. It doesn't take long before everything spins out of control, leaving Blair struggling to cope.

A story of courage, self-knowledge, and ultimate triumph over the elements, Jumper is a dramatic wilderness adventure that explores what it takes to survive—in every sense of the word.

"Never less than riveting." –Kirkus, starred review

"Blair is a fierce and dynamic narrator, and Crowder's (Mazie) immersive prose, crisp dialogue, and haunting descriptions of devastating fires enlivens this pulse-pounding thriller." –Publisher's Weekly, starred review

About the Author
---
MELANIE CROWDER (she/her) holds an MFA in writing from Vermont College of Fine Arts and is the author of the critically acclaimed Audacity, Mazie, and An Uninterrupted View of the Sky. She lives with her family on the Colorado Front Range. Visit Melanie online at www.melaniecrowder.net. Follow her on Twitter and Instagram @MelanieACrowder.
Praise For…
---
Praise for Novels by Melanie Crowder:

Jumper

★ "Blair is a fierce and dynamic narrator, and Crowder's (Mazie) immersive prose, crisp dialogue, and haunting descriptions of devastating fires enlivens this pulse-pounding thriller." –Publisher's Weekly, starred review

★ "Never less than riveting." –Kirkus, starred review

Mazie

★ "Deserves a standing ovation." –Kirkus Reviews, starred review

★ "This is a terrific and realistic piece of historical fiction that is perfect for theater lovers and historical fiction fans." –SLC, starred review

★ "The peppy first-person narrative keeps the story zipping along, and adroitly placed period details make the setting come alive in this bighearted, exuberant novel." –Publishers Weekly, starred review

An Uninterrupted View of the Sky

★ "Crowder delivers a disturbing portrait of innocent families trapped in corrupt systems, as well as a testament to the strength of enduring cultural traditions and the possibility of finding family in the unlikeliest places." –Publishers Weekly, starred review

★ "Readers will feel utterly invested in Francisco's various challenges....A riveting, Dickensian tale set in 1990s Bolivia." –Kirkus, starred review

★ "Themes of poverty, social injustice based on ethnicity, violence toward women, coming-of-age, romantic love, and a sliver of precarious hope are woven into the plot. This poetic, historical novel is an important addition to libraries given its focus on the consequences of U.S. involvement in Bolivian politics." –School Library Journal, starred review

Audacity

★ "Crowder breathes life into a world long past....Compelling, powerful and unforgettable." –Kirkus Reviews, starred review

★ "This book stands alone....an impactful addition to any historical fiction collection." –School Library Journal, starred review

★ "With a thorough historical note, glossary of terms, and bibliography, this will make an excellent complement to units on women's rights and the labor movement, but it will also satisfy readers in search of a well-told tale of a fierce heroine." –BCCB, starred review

★ "This is an excellent title that can open discussions in U.S. history and economics courses about women's rights, labor unions, and the immigrant experience." –School Library Connection, starred review