The Severed Thread (The Bone Spindle #2) (Hardcover)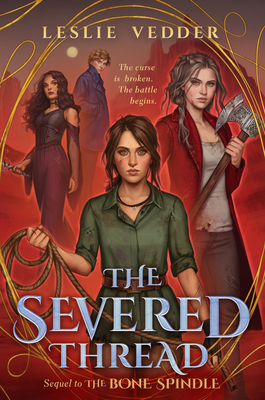 Other Books in Series
This is book number 2 in the The Bone Spindle series.
Description
---
Which threads of fate will hold—and which will break?

Clever, bookish Fi and her brash, ax-wielding partner Shane are back in this action-packed sequel to the bestselling The Bone Spindle, the gender-flipped Sleeping Beauty retelling, perfect for fans of Sorcery of Thorns and The Cruel Prince.

Fi has awakened the sleeping prince, but the battle for Andar is far from over. The Spindle Witch, the Witch Hunters, and Fi's own Butterfly Curse all stand between them and happily ever after.

Shane has her partner's back. But she's in for the fight of her life against Red, the right hand of the Spindle Witch who she's also, foolishly, hellbent on saving.

Briar Rose would do anything to restore his kingdom. But there's a darkness creeping inside him—a sinister bond to the Spindle Witch he can't escape.

All hopes of restoring Andar rest on deciphering a mysterious book code, finding the hidden city of the last Witches, and uncovering a secret lost for centuries—one that just might hold the key to the Spindle Witch's defeat. If they can all survive that long…

Set in a world of twisted fairytales, The Severed Thread combines lost ruins, ride-or-die friendships, and heart-pounding romance.
About the Author
---
Leslie Vedder is a YA author who loves girl heroes and adventurers. She grew up on fantasy books, anime, fanfiction, and the Lord of the Rings movies, and met her true love in high school choir. She graduated from San Francisco State University with a BA in creative writing, and currently lives in Colorado with her wife and two spoiled house cats.
Praise For…
---
"Both the action and the romance are heart-pounding, but perhaps the most touching aspects are the friendships among the characters: Their world is full of magic, mysteries, and danger, and they support each other through it all with love and compassion." — Kirkus Reviews

"This flipped fairy-tale series is too fun to miss. Highly recommended." – School Library Journal