Sofreh: A Contemporary Approach to Classic Persian Cuisine: A Cookbook (Hardcover)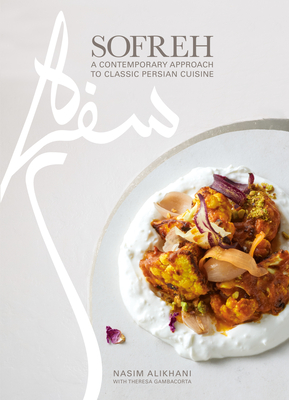 Description
---
The much-anticipated cookbook—an exquisite collection of Persian recipes—from the James Beard–nominated chef of Sofreh, one of Brooklyn's most acclaimed restaurants.

"I got lost in the flavors of Nasim's mint oil, saffron rice pudding, and meltingly tender chicken stew laced with sweet-tart flavors from Pink Lady Apples and sour cherries. Her naan e-barbari is the best!" —Suzy Karadsheh, New York Times best-selling author of The Mediterranean Dish Cookbook
Growing up in Isfahan, a province in central Iran, Nasim Alikhani was a passionate cook from childhood, spending the first years of her life in the kitchen alongside her mother. And so, when she departed after the revolution it was by re-creating the dishes of her youth that she was able to feel connected to her home. After decades of cooking for friends and family, at the age of fifty-nine she opened Sofreh restaurant in Brooklyn, to share the food and warm culture of her native Iran with a wider circle.
Now, in her first cookbook, Alikhani offers her readers what she has lovingly been providing for those who know her and who eat in her restaurant: the true tastes of Iran. Here is the timeless, soul-satisfying food of Persia, with its trademark bold herb and spice flavors, succulent, savory stews and stuffed meats, vast bounty of brightly pickled vegetables and fresh fruits, and much, much more.
Containing more than 120 recipes, Sofreh brings together traditional Iranian dishes and modern Sofreh favorites.
Sour Cherry Rice
Roasted Cauliflower with Shallot Yogurt and Pistachios
Sour Chicken Stew
Rosewater and Cardamom Custard
and, of course, everything you need to create a true Iranian breakfast spread at home
A joyous celebration of one of the world's great cuisines, this essential guide will delight home cooks everywhere.
About the Author
---
NASIM ALIKHANI has always expressed herself best through food. Coming from a tradition of strong women who are great cooks, she began cooking for large gatherings and parties at a young age. In 2018, she opened Sofreh, a Brooklyn-based Iranian restaurant, to acclaim. In 2021, she was selected as one of ten chefs, and the first ever Iranian chef, to create the menu for guests at the Met Gala in New York City. In 2023, Nasim was named a James Beard Foundation Semifinalist for Best Chef: New York State, and was invited to cook for President Biden, the First Lady, and their guests at a special Nowruz reception at the White House.

THERESA GAMBACORTA is a food journalist and playwright, and the co-author, with Joey Campanaro, of Big Love Cooking.
Praise For…
---
"Sofreh in Farsi means "spread," the traditional tablecloth for serving meals. But it means so much more that isn't as simply translated. To sit at the sofreh is to take part in a ritual with connotations of community, hospitality, respect and manners. For Nasim Alikhani, chef-owner of Sofreh restaurant in Brooklyn, it's a celebration of her roots in pre-Revolution Isfahan, Iran, and she writes so poignantly about her love of Persian cuisine. The recipes are a reflection of the cooking she grew up with and dishes she learned about traveling back to Iran from New York. They are deep dives into her rich culture."—Betty Hallock, Los Angeles Times (The best cookbooks of 2023)

"This book is as much a love letter to Nasim Alikhani's home as it is an important resource to guide us through the rich and fragrant foods of Iran. I got lost in the flavors of Nasim's mint oil, saffron rice pudding, and meltingly tender chicken stew laced with sweet-tart flavors from Pink Lady Apples and sour cherries. Her naan e-barbari is the best, by the way! I am so grateful Nasim wrote this book. What a treasure!" —Suzy Karadsheh, New York Times Best Selling Author of The Mediterranean Dish Cookbook: 120 Bold and Healthy Recipes You'll Make on Repeat

"Wow! This book is sensational in every sensual sense of the word, a life's work that evokes roses and wood fires, history and revolution, the lyricism of smoked eggplant, and way too much fresh black pepper. It has changed how I think about food. But it should come with a warning: not to be read when hungry!" —Bill Buford, best-selling author of Heat and Dirt

"Named for her Persian restaurant in Brooklyn but also for the traditional table coverings from her home in Iran, Alikhani's book is a guide not just to food but to its place in Persian culture and families...[T]he range of recipes offers so many departure points for deeper connection, as do the insightful introductions to recipes that are rich with stories of family, travel, flavors, and a lifetime of memories. Ingredients and recipes themselves are well-explained, with careful instructions and photographs offered for potentially unfamiliar techniques. Poetry and words from Alikhani's parents are interspersed with the recipes, and lush photography displaying Persia's vivid beauty ends the book. An exemplar for cookbooks as cultural ambassadors, this merits pride of place on bookshelves as a warm guide for cooks new to Persian cuisine or returning to familiar favorites, with the added zest of the upscale restaurant's signature flair." —Heather Booth, Booklist (Starred Review)

"Iranian-born chef Alikhani imbues her debut cookbook with the rich flavors and modern sensibilities that make her Brooklyn restaurant, Sofreh, a dining destination…Slivers of medjool dates and soft, turmeric-tinged onions enhance scrambled eggs, while ground walnuts thicken a piquant pomegranate sauce for spiced lamb patties, and a roast chicken is stuffed with a mouthwatering mix of herbs and dried fruits—like the author's mother used to make. Accompanying the delicious recipes is a generous helping of commentary that promises excellent results... Alikhani also shares the secrets of her restaurant's renowned Sofreh flatbread, and offers a recipe for warm eggplant dip to go with it. Home cooks will want to try it all." —Publishers Weekly (Starred Review)