The Urgent Life: My Story of Love, Loss, and Survival (Hardcover)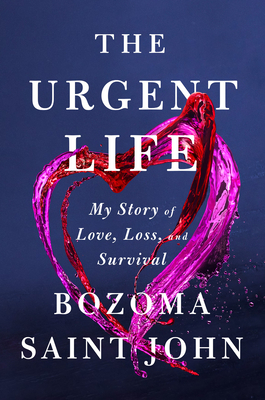 Description
---
"The Urgent Life shines a bright light on the intricacies of the shadows she's been in, and illuminates the beauty of her urgent life." —Serena Williams

From iconic leader Bozoma Saint John, comes a memoir of grief, and one woman's drive to thrive in the face of loss

When Bozoma Saint John's husband, Peter, died of cancer, she made one big decision: to live life urgently. Bozoma was no stranger to adversity, having lost her college boyfriend to suicide, navigated an interracial marriage, grieved a child born prematurely--a process that led to her and Peter's separation--and coparented the daughter who she and Peter shared. When Peter knew his cancer was terminal, he gave Bozoma a short list of things to do: cancel the divorce, and fix the wrongs immediately.

In The Urgent Life, Bozoma takes readers through the dizzying, numbing days of multiple griefs, and the courage which these sparked in her to live life in accordance with her deepest values time and time again. We witness Bozoma's journey forward through the highs and the lows, as she negotiates life as a woman determined to learn from tragedies to build a remarkable life worth living even in her brokenness.

Bozoma's story is extraordinary, but her grief is not uncommon, and her courage is sure to touch any reader who has loved, mourned and is finding a path through loss and grief, as well as anyone who is maneuvering a pivot and wants to live life to its fullest.
About the Author
---
Bozoma Saint John is an influencer and American businesswoman who has had a stellar career in marketing, most recently as the Global Chief Marketing Officer at Netflix. She began her career at Spike Lee's advertising agency, then going on to become a senior marketing executive at Pepsi, Apple Music, Uber, and Endeavor. She has been featured on the cover of Adweek as "one of the most exciting personalities in advertising" and has been inducted into the American Advertising Federation Hall of Achievement, as well as the American Marketing Hall of Fame, among others. Bozoma was named the #1 most influential CMO by Forbes in 2021, and has created a successful online tutorial "The Badass Workshop" which teach others to be their greatest selves.
Praise For…
---
One of Oprah Daily's Most Anticipated Books of 2023

"The highlight reel of life can be misleading. It's only when you look beyond the happy moments to look deeply into the times of darkness to see the real truth of a life. Bozoma Saint John's The Urgent Life shines a bright light on the intricacies of the shadows she's been in, and illuminates the beauty of her urgent life." —Serena Williams

"The intensity of The Urgent Life Is contagious. No matter how different our own lives may be, we're likely to leave these pages with a new sense of intimacy as well as urgency." —Gloria Steinem

"In the past few years, I've had a front row seat to the inspiring way Bozoma Saint John has lived her life urgently; but in reading the story of her losses, I've truly come to marvel at her ferocious fortitude. Boz has not just survived, she has thrived. And all of us can learn lessons in The Urgent Life for how to do the same."—Arianna Huffington, Founder & CEO, Thrive Global

"I'm a believer of miracles, so Bozoma Saint John's The Urgent Life speaks to my very core in illustrating the miracle of a life made great even through the trauma of immeasurable loss. If you don't believe in miracles, her story is sure to convert you." --Gabrielle Union, actress, producer and best selling author

"Yes, The Urgent Life is the epic, riveting story about the love between a woman and her family. It is also a love story between a singularly brilliant woman and life itself. Every page shows us how to love and lose while staying so unflinchingly close to the beautiful, brutal truth of life that we finally suck the marrow out of it." --Glennon Doyle, author of the NYT bestseller Untamed and Founder of Together Rising

"Bozoma Saint John takes us on a deeply personal journey from pain to power. Her story reflects the indomitable spirit of hope that transcends the most deplorable moments we all encounter between mountains. This is a guide to lift your heart, beyond the dismal shadows of now, to the effervescent enlightenment of next. More than a book; this page-turning ride will transport you from shades of night to the effervescence of light.  Buckle up!  You are in for a ride!" --T.D. Jakes, entrepreneur, New York Times best-selling author, and global Christian leader

"Anyone who has crossed paths with Boz knows she is a force—ready to take on the world, even in the face of loss. Infused with determination, spirituality and passion, The Urgent Life will make you want to pour yourself into everything you do and wring the most of out of every single day."
--Katie Couric

"A woman we can ALL look up to! Boz's story is heartbreaking, yet inspiring, and brings nothing but light and love to even the darkest of times. She is the definition of keep on keepin' on, and I know that's exactly what she will continue to do." --Quincy Jones

"A remarkably moving read about love, loss, and resilience. Bozoma Saint John is a force of nature, and her memoir will make you laugh, cry, and think hard about the meaning of your life and the relationships that matter most." --Adam Grant, #1 New York Times bestselling author of Think Again and host of the TED podcast Re:Thinking

"The Urgent Life is an urgent book, a waterfall of life's tragedies and happinesses —and it is also a meditation on how to live, with agency and will and also with truth, care and joy. Any reader who has lived and loved and lost will find a home in this book." --Amy Bloom, New York Times bestselling author of In Love

"Tender and fierce, this book explores loss, interracial love, and the complexity of human emotion with humility, candor, and grace…An intimately revealing and moving memoir." --Kirkus

"Saint John's forthright approach and reliance on her spirituality are inspiring. Readers will be touched by this heartfelt message of hope." --Publishers Weekly

"[Bozoma] inspires us all not to give up despite the obstacles." --O Quarterly

"In her new memoir, Bozoma opens the door to her most intimate thoughts, showing readers how she managed to persevere through the direst of circumstances. This is a story of grief, of courage, and of deep love. It is about family – those we inherit, and those we choose." --Essence

"Live life urgently: Even in her brokenness, that is Bozoma Saint John's main goal when she loses her husband, Peter, to cancer. Knowing his cancer was terminal, Peter gave Bozoma a list of two things: cancel their divorce and fix the wrongs immediately. But Bozoma is no stranger to adversity, having lost her college boyfriend to suicide, an interracial marriage, a premature child, and a separation from Peter. Through outstanding courage, she navigates multiple griefs, while holding strong to her desire for a remarkable life." --She Reads

"The Urgent Life is an unflinching examination of Saint John's decision to live urgently, which grew out of the realization that time spent with the people she loves isn't guaranteed."
--BookPage

"[A] heartfelt memoir…" –New York Times

"Any reader who has experienced loss and disappointment or who has found herself at one crossroad after another will appreciate a personal story that deftly blends heaviness with heart and humor....This read is especially for you if you are experiencing the uncertain in-between times that bridge what you've found the courage to release and the unseen blessings that await." - Sisters from AARP