Mergers and Acquisitions: Or, Everything I Know About Love I Learned on the Wedding Pages (Paperback)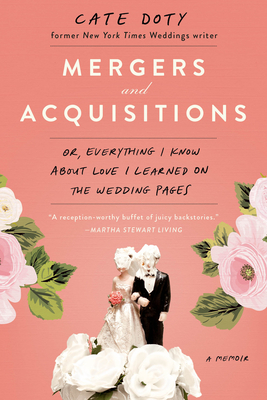 $17.00

On Our Shelves Now. Click on the title to see details.
Description
---
A compulsively readable behind-the-scenes memoir that "probes the making of the modern marriage" (Bianca Bosker, Cork Dork) and takes readers inside the weddings section of The New York Times--the good, bad, and just plain weird.


Growing up in the south, where tradition reigns supreme, Cate Doty thought about weddings . . . a lot. So, when she moved to New York City in pursuit of love--and to write for The New York Times--she finds her natural home in the wedding section.

Soon Cate is thrown into the cutthroat world of the metropolitan society pages, reporting weekly on couples whose relationships seem enviable—or eye-roll worthy—and dealing with WASPy grandparents, last-minute snafus, and the status-singling details that matter most to brides and grooms. But when she starts to take the leap herself, she begins to ask her own questions about what it means to truly commit...

Warm, witty, and keenly observed, Mergers and Acquisitions is an enthralling dive into one of society's most esteemed institutions, its creators and subjects, and a young woman's coming-of-age.
About the Author
---
Cate Doty is a writer and a former editor at The New York Times, where she worked for nearly fifteen years, including as a wedding announcements writer, presidential campaign reporter, and a senior staff editor on the Food desk. She lives in North Carolina with her family.
Praise For…
---
Advance Praise for Mergers and Acquisitions

One of Better Homes & Gardens's 11 New Books We Can't Wait to Read This Summer
One of PopSugar's 25 New May Book Releases That Deserve a Place on Your Kindle
One of Good Morning America's 30 May Books to Add to the Stack
One of The Skimm's 18 Can't-Miss Beach Reads For Summer 2021

"If your weekends consist of devouring the weddings section of The New York Times, Cate Doty's Mergers and Acquisitions needs to be on your TBR list." —Marie Claire

"Doty gives fascinating insight into this particular job, a holdover from the paper's society pages, and writes intelligently about the place that weddings continue to hold in modern culture. The book is for romantics and skeptics alike." --Oprah Daily

"Mergers & Acquisitions, former New York Times journalist Cate Doty's account of her time on the weddings beat, is a reception-worthy buffet of juicy backstories that didn't make it into print, including her own." —Martha Stewart Living

"Cate Doty spent years writing for the weddings section of The New York Times. She's seen it all: From true love to bridezillas and everything in between. And now, she's spilling all the dirty details and insightful life lessons into this memoir you won't be able to put down." –Better Homes & Gardens

"[A] delightful, at times jaw-dropping, tale." –Good Morning America

"[A] dishy memoir." –PopSugar

"Doty, a former New York Times weddings writer, has written a memoir that's a fun, gossipy romp of a book about her wedding journalism. It's also a book that makes you think about why anyone gets married—and who needs to know they did." –The Boston Globe

"Say 'I do' to this memoir from a former weddings writer at The New York Times… For anyone who's interested in the history of wedding announcements or wants the deets on how to actually get yours in the paper of record, this one's for you." –The Skimm

"This charming memoir has just the right balance of society gossip and personal confession, making it absolutely perfect for poolside binging at a Bachelorette party, or on the flight to your first post-COVID wedding." --The Week

"Laced with frank reflection and entertaining anecdotes, this is a winning portrait of love and ambition in the 21st century." —Publishers Weekly

"Doty's love-filled memoir will delight readers hoping for an inside look at the wedding section, and fans of uplifting memoirs." –Library Journal

"With self-deprecating wit, wry humor and a keen eye for details both ridiculous and heartwarming, Mergers and Acquisitions is a snapshot of a particular era in both journalism and the wedding industry as well as a thoughtful meditation on love itself." –Shelf Awareness

"Amusing and well-written." –Kirkus

"[Cate Doty's] new, personal, sometimes biting and often hilarious book, Mergers and Acquisitions: Or, Everything I Know About Love I Learned on the Wedding Pages, combines rollicking stories of matrimonial reporting and her own heartbreaks and ultimately triumphant love story." –Garden & Gun

"In a compelling memoir, Cate Doty offers us a rare, insider look into the hermetically sealed decision-making process that so much of the world obsesses over—the wedding announcements of The New York Times and who gets in and why or why not. While inspiring us with the sweetness of her own journey in finding love, Mergers and Acquisitions also reveals the storybook weddings may not be as picture-perfect as the photos that accompany them." —Jennifer 8. Lee, author of The Fortune Cookie Chronicles

"Anyone who enjoys ogling the love lives of couples featured in the newspaper (guilty!) won't be able to put down this entertaining, behind-the-scenes expose, which examines the drive to have nuptials announced and how it says as much about privilege as it does about true love." —Kate Bolick, bestselling author of Spinster: Making a Life of One's Own

"Mergers and Acquisitions: (Or, Everything I Know about Love I learned on the Wedding Pages) is funny, smart, biting, and highly entertaining. Navigating the world of weddings can't be easy, but Cate handles it fearlessly with to-the-point sass in this eye-opening expose." —Jen Lancaster, author of Bitter Is the New Black: Confessions of a Condescending, Egomaniacal, Self-Centered Smartass, Or, Why You Should Never Carry A Prada Bag to the Unemployment Office

"I tore through Cate Doty's book, which is equal parts charming, addictive, funny, and poignant. Doty's stories about working at the New York Times, brilliantly intertwined with her personal experiences with love, lift the veil (pun intended) on both high society and the human condition." —Amy Odell, author of Tales from the Back Row: An Outsider's View from Inside the Fashion Industry

"Cate Doty's Mergers and Acquisitions is a delicious confection, filled with swirling layers of history and politics, journalism and gossip, etiquette and fashion, plus family ties, morals and immorals, and, of course—and thank goodness—romance and love, just as any book about weddings (and weddings themselves) should be." —Jen Doll, author of Save the Date: The Occasional Mortifications of a Serial Wedding Guest

"Hilarious and moving, Doty writes about an industry from the outside in. She illuminates how our appetite for the bouquets, canapés, and artifice exist alongside our desire for the unspoken elements of weddings—the hangovers, cold feet, and gaudy diamonds. At its heart, this is as much a love story between two people as between a writer and her craft. —Ellen O'Connell Whittet, author of What You Become in Flight

"This delicious book is a giggly and gossipy look at wedding announcements from NYT writer Cate Doty. Grab a big box of (cleavage) popcorn and get ready for a wild ride. My favorite was the deflated groom who discovered his fiancé's real age on the wedding announcement. OOPS! Absolutely loved it." —Lizzy Dent, author of The Summer Job