Revolutions: How Women Changed the World on Two Wheels (Paperback)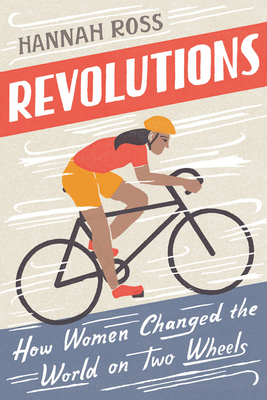 $18.00

If not in stock, we can Special Order from the publisher
Description
---
A history and celebration of women's cycling—beginning with its origins as a political statement, beloved pastime, and early feminist act—that shares the stories of notable cyclists and groups around the world

More than a century after they first entered the mainstream, bicycles and the culture around them are as accessible as ever—but for women, that progress has always been a struggle to achieve, and even now the culture remains overwhelmingly male. In Revolutions, author Hannah Ross highlights the stories of extraordinary women cyclists and all-female cycling groups over time and around the world, and demonstrates both the feminist power of cycling and its present-day issues.

A cyclist herself, Ross puts a spotlight on the many incredible women and girls on bicycles from then to now—many of whom had to endure great opposition to do so, beginning in the 1880s, when the first women began setting distance records, racing competitively, and using bicycles to spread the word about women's suffrage. Revolutions also celebrates women setting records and demanding equality in competitive cycling, as well as cyclists in countries including Afghanistan, India, and Saudi Arabia who are inspiring women to take up space on the road, trails, and elsewhere.

Both a history of women's cycling and an impassioned manifesto, Revolutions challenges a male-dominated narrative that has long prevailed in cycling and celebrates the excellence of women in the culture.
About the Author
---
Hannah Ross works for an independent publisher in London. When she isn't working on other people's books or writing her own, she is usually on a bike. She belongs to a local cycling club and also volunteers for a charity helping refugee women learn to ride bikes. Whenever she can, she packs up her saddle bags and heads for the open road, and now she doesn't feel she's really traveled anywhere unless it's on two wheels. Given the choice, Hannah would always rather be (slowly) pedaling up mountains than almost anywhere else. She also spends too long thinking about the next bicycle she really "needs."
Praise For…
---
"Hannah Ross's Revolutions: How Women Changed the World on Two Wheels tells us the stories of those throughout history who challenged and changed the establishment… Revolutions gives a detailed if academic account of this history, but it's the riders' passion and shared sense of adventure that shines through."
—The Wall Street Journal

"In this well-researched, readable book, Ross shows how these "freedom-machine[s]" became intertwined with women's emancipation and the feminist movement… Comprehensive and inclusive, the narrative shines the spotlight on a neglected history while making an impassioned plea for gender equality in cycling. An informative and enlightening blend of sports history and women's history."
—Kirkus

"Revolutions is part cycling history, part feminist rallying cry. Ross has done her research, and her narrative brims with information about specific types of bicycles and the groups of women who used them… Revolutions is an informative, entertaining and inspiring look at what it means to be a woman on a bike."
—Shelf Awareness