EXSTATICA Self-Help Essentials: Unleash the Transformative Sparkles of the Renaissance Mantegna Tarot (Paperback)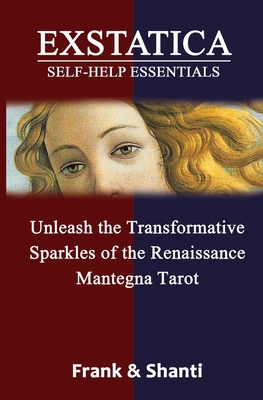 $15.00

NOT on our shelves - Usually Ships in 1-5 Days
Description
---
"EXSTATICA - Self-Help Essentials. Unleash the Transformative Sparkles of the Renaissance Mantegna Tarot" shows you how to turn your life into a masterpiece, for the benefit of all. Get access to the wisdom that made the Renaissance possible, using the Mantegna Tarot as compass.
This hands-on book presents actionable ways to use the Mantegna Tarot as a tool of personal growth, to flourish for the benefit of all beings by tapping into the creative sparkles of the Italian Renaissance. It is not an academic treatise about tarots, nor about the mesmerizing history of the Renaissance. It explains how to use the Mantegna Tarot to gain more insights about the Four Spheres of life: behavior, emotions, cognition, meaning. When these spheres are in harmony, you live a meaningful life that expresses its full potential for the benefit of all. When the Four Spheres are not in synch, problems arise. Each of the first four chapters of this book, analyzes the Mantegna Tarot cards for the corresponding sphere. The remaining chapters explain how to use the cards, integrating them into your daily life.
You do not need to buy a Mantegna Tarot deck to use this book. These engravings are printed inside the book, on regular pages. If you like, you can cut them out, glue them to cardboard, and cut out each card. Back-pages were intentionally left blank, to ensure cards can be cut without affecting the text of the book. Each chapter ends with short, mindful insights, inspired by Shanti, a lovely Coton de Tulear.