Kitchen Remix: 75 Recipes for Making the Most of Your Ingredients: A Cookbook (Hardcover)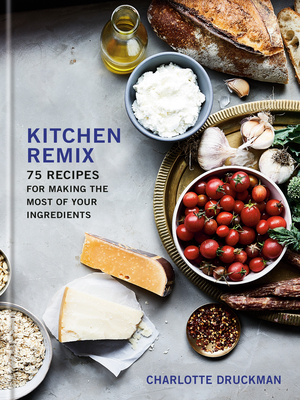 List Price: $28.00
Our Price: $11.98
(Save: $16.02 57%)
Description
---
Make the most of your pantry and fridge with this fun and easy-to-use cookbook that turns groups of three ingredients into three distinct courses.
 
Whether you're buying food for the week or just a food lover who wants to explore new tastes, Kitchen Remix is the flexible handbook you'll constantly have open thanks to its 75 recipes that reimagine dinner.
 
Charlotte Druckman, an accomplished food writer and journalist, shows you how to combine—and re-combine—three base ingredients into a variety of distinct meals: goat cheese, strawberries, and balsamic vinegar turn into Goat Cheese Salad, Strawberry-Chevre Parfaits, and Strawberry Shortcakes. Squid, cornmeal, and peppers are the key players in Hoecake, Cornmeal-Crusted Calamari, and Saucy Peppers, Polenta & Boiled Squid. Meanwhile, Curry-Roasted Carrots, Carrot Upside-Down Cake, and Thai-ish Carrot Salad are all within easy reach when you begin with carrots, cashews, and coconut.
 
With trendy recipes and exciting twists, this book makes cooking simple and fun with easy-to-follow recipes and a manageable pantry section for home cooks of all skill levels. Along the way you'll also learn techniques such as braising, poaching, and oven-frying. It's a flavor guide for the food curious that will grow with you in the kitchen.
About the Author
---
Charlotte Druckman is a journalist, food writer, and the creator of Food52's Tournament of Cookbooks (aka the Piglet). She conceived and edited the collection Women on Food, is the author of Skirt Steak: Women Chefs on Standing the Heat and Staying in the Kitchen and Stir, Sizzle, Bake, and coauthor of Anita Lo's Cooking Without Borders. She lives in New York City.
Praise For…
---
"This sort of inspiration is bound to excite the cook looking for something unexpected and quite original for the dinner table."—Booklist
 
"This book is valuable no matter what ingredients you have on hand."—Cooking in Quarantine
 
 "Inspires us to be creative with the ingredients in our pantry."—Heated

"Druckman proves to be a home cook's savvy companion in this helpful cookbook."—Publishers Weekly