Elizabeth Bishop: A Miracle for Breakfast (Hardcover)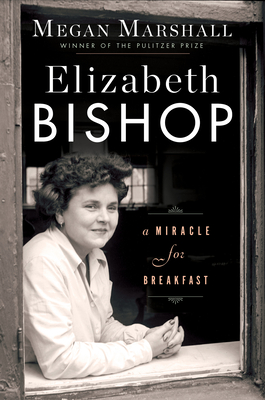 $30.00
Usually Ships in 1-5 Days
Description
---
From a Pulitzer Prize–winning author, a brilliantly rendered life of one of our most admired American poets
Since her death in 1979, Elizabeth Bishop, who published only one hundred poems in her lifetime, has become one of America's best-loved poets. And yet—painfully shy and living out of public view in Key West and Brazil, among other hideaways—she has never been seen so fully as a woman and an artist. Megan Marshall makes incisive and moving use of a newly discovered cache of Bishop's letters—to her psychiatrist and to three of her lovers—to reveal a much darker childhood than has been known, a secret affair, and the last chapter of her passionate romance with the Brazilian modernist designer Lota de Macedo Soares.
These elements of Bishop's life, along with her friendships with poets Marianne Moore and Robert Lowell, are brought to life with novelistic intensity. And by alternating the narrative line of biography with brief passages of memoir, Marshall, who studied with Bishop in her storied 1970s poetry workshop at Harvard, offers the reader a compelling glimpse of the ways poetry and biography, subject and biographer, are entwined.
Finally, in this riveting portrait of a life lived for—and saved by—art, Marshall captures the enduring magic of Bishop's creative achievement.
About the Author
---
MEGAN MARSHALL is the winner of the 2014 Pulitzer Prize in Biography for Margaret Fuller, and the author of The Peabody Sisters, which won the Francis Parkman Prize, the Mark Lynton History Prize, and was a finalist for the Pulitzer Prize in 2006. She is the Charles Wesley Emerson College Professor and teaches narrative nonfiction and the art of archival research in the MFA program at Emerson College. For more, visit www.meganmarshallauthor.com.
Praise For…
---
"I really don't know HOW poetry gets to be written," Elizabeth Bishop once lamented, proposing some combination of mystery, surprise, and hard work. In a life marked by regular loss, inspiration would prove as elusive as happiness; the verse seemed to sneak up on her when she least expected. Megan Marshall here coaxes the self-conscious poet out of her shyness, her genius into words.  She proceeds as did Bishop in her best verse, by description paired with astute reflection.  And Marshall is daring, stepping out from behind the biographical curtain, effectively, ingeniously, and with a lovely twist at the end.  A sure-handed, beautifully constructed book that captures the color of Elizabeth Bishop's life–melancholy and ecstatic, anchored by whiskey and words, by turns New England grim and toucan-vibrant–on the page.  Megan Marshall performs her own miracle: Here is how poetry gets written."
—Stacy Schiff, author ofThe Witches, Cleopatra, and Véra
"Elizabeth Bishop, the quietest, most elusive, and among the greatest of modern American poets, has since her death become a cultural icon, much studied, much quoted, and even a character in films and fiction. Now we have a remarkable book—part biography, part memoir—by a writer whose life actually intersected with hers. Megan Marshall, like her subject, has an unerring eye for the telling detail and the illuminating story. She succeeds in bringing Elizabeth Bishop vividly to life in all her poignant complexity."
—Lloyd Schwartz, Pulitzer Prize-winning critic, co-editor of Elizabeth Bishop: Poems, Prose, and Letters

"[An] elegant, moving biography . . .  [It] has more to recommend it than shocking revelations. It is a shapely experiment, mixing memoir with biography . . . [Marshall's] experience as a young woman and aspiring writer casts Bishop's struggles in fresh light . . . This new biography fuses sympathy with intelligence, sending us back to Bishop's marvelous poems." 
—Wall Street Journal

"Marshall's account is lively and engaging, charged with vindicating energy . . . [A] compelling structure . . . the reader watches the two women's lives converge, and it allows for some closeup glimpses of Bishop as a teacher. Marshall seems still sensitive to having given up poetry, the one great thing that Bishop, for all her losses, never let go. There's an emotional undertow even in Marshall's treatment of poetic forms . . . and in her unwavering reverence for the magic that form cannot explain. The book is ultimately about how words ordered on a page may supply some order for one's life, may assuage and even redeem tragedy."
—The New Yorker

"A sharp portrait of the tragedies and other influences that shaped Bishop's life and career . . . . Best of all are Marshall's analyses of Bishop's poems . . . This fine biography demonstrates the magnitude of Bishop's achievements without ignoring her flaws."
—Kirkus Reviews

"Marshall expertly shows this charmed and sometimes sad life in intelligent, clear, and beautiful prose . . . A generous, enjoyable piece of work."
—Publishers Weekly

"Marshall brings the sometimes elusive writer . . . to life, offering a cohesive and novel look at the ways in which subject and biographer are intertwined and the value of understanding a poet's biography while reading their work. VERDICT: This study opens up a new way of looking at Bishop's life and her place in American letters."
—Library Journal

"Enlightening . . . A biography of Bishop is long overdue, and Marshall illuminates the poet's life with fascinating and inspiring details and insights."
—Booklist

"In prose that reads with the intrigue of a novel, the author reveals previously unknown facets of Bishop's life, from her troubled childhood to a clandestine love affair."
—Harper's Bazaar

"An extraordinary book about how Elizabeth Bishop moved people in her life and her poetry."
—Buffalo News

"Using a wealth of new material, including the poet's letters to her lovers and psychoanalyst, Marshall has crafted the most intimate and accurate biography yet available.  Anyone interested in Bishop's life and work will need to read this moving and often revelatory new account....  Elizabeth Bishop: A Miracle for Breakfast is the rare sort of book that will expand the audience for contemporary poetry."
—The American Scholar
 
"This compelling blend of biography and autobiography offers readers a portal into Bishop's life, situated among her poems and prose, friendships and geographies, love affairs and grievous losses, while also telling the story of Marshall's beginnings as a writer: the training she received in poetry - a grasp of story, careful details, the nuance of character and language - that led to dexterity as a biographer . . . A riveting account of Elizabeth Bishop's artful life, told in connection to the story of her own literary vocation, Marshall's book details two lives whose 'precipitate and pragmatical' intersection in the late 1970s was a windfall for American letters."
—Worcester Telegram

"A skillful and judicious performance . . . without any of the stiffness, the blockiness or monumentality that sometimes afflicts biography."
—TLS