Hyde (Paperback)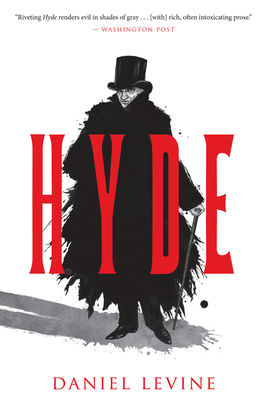 $15.99

On Our Shelves Now. Click on the title to see details.
Description
---
A New York Times Editors' Choice and one of the Washington Post's 5 Best Thrillers of the Year
 
"[A] knockout debut novel . . . As dark and twisted and alluring as the night-cloaked streets of nineteenth-century London, and this book is as much a fascinating psychological query as it is a gripping narrative." —Benjamin Percy, author of Red Moon

Summoned to life by strange potions, Hyde knows not when or how long he will have control of "the body." When dormant, he watches Dr. Jekyll from a remove, conscious of this other, high-class life but without influence. As the experiment continues, their mutual existence is threatened, not only by the uncertainties of untested science, but also by a mysterious stalker. Hyde is being taunted—possibly framed. Girls have gone missing; someone has been killed. Who stands watching in the shadows? In the blur of this shared consciousness, can Hyde ever be confident these crimes were not committed by his hand?
 
"A pleasure . . . Rich in gloomy, moody atmosphere (Levine's London has a brutal steampunk quality), and its narrator's plight is genuinely poignant." —New York Times Book Review
About the Author
---
DANIEL LEVINE studied English Literature and Creative Writing at Brown University and received his MFA in Fiction Writing from the University of Florida. He has taught composition and creative writing at high schools and universities, including the University of Florida, Montclair State University, and Metropolitan State College of Denver. Originally from New Jersey, he now lives in Colorado.
Praise For…
---
"[An] ingenious revision . . . exposing the tender heart inside the brute and emphasizing the pathos of his predicament . . . A pleasure . . . [and] a worthy companion to its predecessor. It's rich in gloomy, moody atmosphere (Levine's London has a brutal steampunk quality), and its narrator's plight is genuinely poignant." — New York Times Book Review

"Riveting Hyde renders evil in shades of gray . . . in his spellbinding first novel [Levine] offers many surprises and rich, often intoxicating prose. It's a fascinating read." — Washington Post

"Levine's account is a masterpiece of hallucination; his narrator is feverish, righteous, intense . . . And about that confession: Hyde doesn't open it, and neither does Levine. He leaves it to Stevenson, to whom he is faithful with his prose. The shockers may be born of this century, but this chilling new version is a remarkably good fit with the original horror classic." — Miami Herald

"Levine's intelligent and brutal first novel, Hyde, puts a fresh spin on the well-worn material . . . It goes beyond a companion piece to an independent novel worth reading in its own right." — Columbus Dispatch

"Hyde is masterfully told, with plenty of damp and spooky London gothic atmosphere . . . A haunting yarn with a sumptuous Victorian atmosphere exquisitely re-imagines Stevenson's 'monster,' the maligned Hyde." — Shelf Awareness

"Richly detailed and engrossing portrait of psychological disintegration." — LitReactor

"Levine's evocation of Victorian England is marvelously authentic, and his skill at grounding his narrative in arresting descriptive images is masterful." — Publishers Weekly, starred and boxed review

"Ambitious and imaginative . . . Taking the parameters of Stevenson's story, but deepening and extending the details, Levine allows us to view Hyde not merely as the venal incarnation of Jekyll's soul, but as a fully fledged character in his own right—and, in many ways, a sympathetic one as well . . . With compelling intensity, Levine makes a noteworthy literary debut." — BookPage

"Levine's masterful in his surrealistic observations of Hyde subsuming Jekyll . . . Cleverly imagined and sophisticated in execution." — Kirkus Reviews

"Prepare to be seduced by literary devilry! Go back to Victorian times to find a very postmodern whodunit. Visceral prose, atmosphere you could choke on, characters who seem to be at your very shoulder. My sole regret after spending several hours inside Daniel Levine's highly literate thriller is that I didn't think of Hyde for myself." — Ronald Frame, author of Havisham

"A gloriously disturbing portrait of man's animal nature ascendant, Hyde brings into the light the various horrors still hidden in the dark heart of Stevenson's classic tale of monstrosity and addiction. It's Levine's extraordinary achievement to give voice to a creature capable of indulging every impulse of transgression, while driving its higher self to damnation. Devious and ingenious, Hyde is a blazing triumph of the gothic imagination." — Patrick McGrath, author of Asylum, Martha Peake, Spider, and others

"This rich, allusive, erudite novel is a welcome reminder of what a tour de force really is." — David Leavitt, author of The Indian Clerk and many others

"Levine locates the strange beneath the familiar in this intricately imagined, meticulously executed debut. You may think you know Dr. Jekyll, but this Hyde is a different beast altogether." — Jon Clinch, author of Finn and The Thief of Auschwitz

"Levine has staked his claim to one of the most compelling stories of all time, The Strange Case of Dr. Jekyll and Mr. Hyde, and brilliantly made it his own in this knockout debut novel. The mind of Hyde is as dark and twisted and alluring as the night-cloaked streets of nineteenth century London, and this book is as much a fascinating psychological query as it is a gripping narrative." — Benjamin Percy, author of Red Moon, The Wilding, and Refresh, Refresh