Search for Books
ABA Mobile Menu
Dear Girls: Intimate Tales, Untold Secrets & Advice for Living Your Best Life (Hardcover)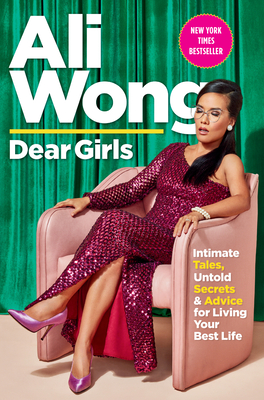 Hard to Find - May not be reprinted
Staff Reviews
---
If you've watched Ali's Netflix specials, how have you not read this book yet? In classic Ali fashion, the humor is raunchy, and among the laughter you'll find invaluable tips. For example, if your Asian restaurant doesn't look like it's going to give you food poisoning, you're not in the right place. This book had me laughing in public like a crazy person, and I guarantee you're going to want to share it with all of the women in your life!
— From
Katie's Recommendations
Description
---
NEW YORK TIMES BESTSELLER • Ali Wong's heartfelt and hilarious letters to her daughters (the two she put to work while they were still in utero) cover everything they need to know in life, like the unpleasant details of dating, how to be a working mom in a male-dominated profession, and how she trapped their dad.

"Knife-sharp . . . a genuine pleasure."—The New York Times 

NAMED ONE OF THE BEST BOOKS OF THE YEAR BY Time • Variety • Chicago Tribune • Glamour • New York

In her hit Netflix comedy special Baby Cobra, an eight-month pregnant Ali Wong resonated so strongly that she even became a popular Halloween costume. Wong told the world her remarkably unfiltered thoughts on marriage, sex, Asian culture, working women, and why you never see new mom comics on stage but you sure see plenty of new dads.

The sharp insights and humor are even more personal in this completely original collection. She shares the wisdom she's learned from a life in comedy and reveals stories from her life off stage, including the brutal single life in New York (i.e. the inevitable confrontation with erectile dysfunction), reconnecting with her roots (and drinking snake blood) in Vietnam, tales of being a wild child growing up in San Francisco, and parenting war stories. Though addressed to her daughters, Ali Wong's letters are absurdly funny, surprisingly moving, and enlightening (and gross) for all.

Praise for Dear Girls

"Fierce, feminist, and packed with funny anecdotes."—Entertainment Weekly

"[Wong] spins a volume whose pages simultaneously shock and satisfy. . . . Dear Girls is not so much a real-talk handbook as it is a myth-puncturing manifesto."—Vogue
 
"[A] refreshing, hilarious, and honest account of making a career in a male-dominated field, dating, being a mom, growing up, and so much more…Yes, this book is addressed to Wong's daughters, but every reader will find nuggets of wisdom and inspiration and, most important, something to laugh at."—Bustle

About the Author
---
Ali Wong is a stand-up comedian, writer, and actress.  She has released two hit Netflix comedy specials—Baby Cobra and Hard Knock Wife—and will star in the Netflix original film Always Be My Maybe.  She lives in Los Angeles with her husband and two daughters.
Praise For…
---
"[Wong] spins a volume whose pages simultaneously shock and satisfy. . . . Dear Girls is not so much a real-talk handbook as it is a myth-puncturing manifesto."—Vogue
 
"[A] refreshing, hilarious, and honest account of making a career in a male-dominated field, dating, being a mom, growing up, and so much more… Yes, this book is addressed to Wong's daughters, but every reader will find nuggets of wisdom and inspiration and, most important, something to laugh at."—Bustle

"Absurdly funny."—Parade

"Dear Girls can be crude and flippant, LOL-dense and breezy—so breezy, in fact, you will be desensitized to the grossest of Wong's gross-outs by chapter one, at which point you have already learned how to hold in a fart during yoga. But as with her stage comedy, she is also sneakily thoughtful about the public roles she occupies—Asian American, working mom, woman on comedy stages—and the come-from-behind grind they necessarily demand."—The Washington Post

"It should come as no surprise that Ali Wong, who made us cry from laughter in her raunchy and relatable Netflix special, is as adept a writer as she is a comedian."—Refinery29

"Each chapter of the deceptively light read begins to have a cumulative effect. Beyond the sexcapades and scatology are stories about self-reflection, family discord and reconciliation, sexism in comedy, and passion. What emerges is a far more complete picture of who [Ali] Wong is than what she's portrayed in her stand-up. . . . It's as if her stand-up act went to prom, got blackout drunk, pooped its pants, yet still landed the prom king."—Salon 

"By now, you know that Ali Wong doesn't have a filter—and thank goodness for that. She brings the same level of candid heart and humor that you love from her comedy to her new book, covering everything from growing up in San Francisco to finding comedy to having kids. Dear Girls is a ridiculously funny and enlightening collection of letters to her daughters, but it may be just the thing that you need to hear, too."—HelloGiggles

"A collection of letters to her baby girls that are barn-burning reflections on being a working mom, marriage, sex, and more. If you've ever wanted to have Ali Wong's signature voice in your head for 200+ pages, now's your chance."—Glamour

"Yes, we fell in love with Ali Wong when we watched her Netflix stand-up specials. Yes, we fell in love with her all over again when we watched her in Always Be My Maybe this summer. This fall, her world domination is complete with the release of her essay collection, Dear Girls. In it, you'll find hilarious essays written as letters to her two daughters, that are filled with insight and smart observations about motherhood, womanhood, and life in general. (And yes, you're going to fall in love with her all over again. Again.)"—PopSugar