Cross-National Public Opinion about Homosexuality: Examining Attitudes across the Globe (Paperback)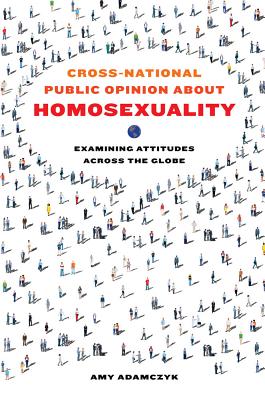 $53.13
Usually Ships in 1-5 Days
Description
---
Public opinion about homosexuality varies substantially around the world. While residents in some nations have embraced gay rights as human rights, people in many other countries find homosexuality unacceptable. What creates such big differences in attitudes? This book shows that cross-national differences in opinion can be explained by the strength of democratic institutions, the level of economic development, and the religious context of the places where people live. Amy Adamczyk uses survey data from almost ninety societies, case studies of various countries, content analysis of newspaper articles, and in-depth interviews to examine how demographic and individual characteristics influence acceptance of homosexuality.


About the Author
---
Amy Adamczyk is Professor of Sociology at John Jay College of Criminal Justice and the Graduate Center, City University of New York.
Praise For…
---
"An excellent comparative analysis of the degree of anti-gay attitudes in many nations... Summing Up: Highly recommended."
— CHOICE
"[A] significant contribution to our overall understanding of public opinion about homosexuality."
— American Journal of Sociology
"What accounts for the range of differences in acceptance of gay, lesbian, bisexual, transgender, and queer persons throughout the world? Amy Adamczyk has woven an impressive tapestry of nuanced answers to this urgent and complex question."

— The Gay & Lesbian Review
"A perfect issue-based case study of how prejudicial attitudes toward minorities groups can be decreased at a country level. Highly recommended as a thought-provoking introduction for both undergraduate and graduate students of social movements, social change, prejudice, comparative public opinion, or any of the many other fields of study the book spans."
— Public Opinion Quarterly
"A must-read for both academics and non-academics, including policymakers, governmental officials, and non-profit practitioners who are committed to policy formation, law enforcement, and advocacy for LGBTQ persons worldwide."
— Sociological Inquiry