Plane Queer: Labor, Sexuality, and AIDS in the History of Male Flight Attendants (Paperback)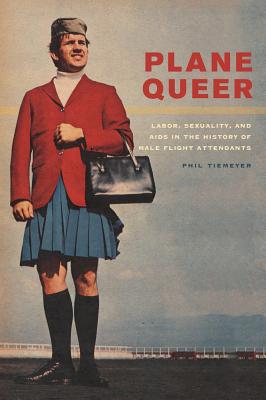 $39.83

NOT on our shelves - Usually Ships in 1-5 Days
Description
---
In this vibrant new history, Phil Tiemeyer details the history of men working as flight attendants. Beginning with the founding of the profession in the late 1920s and continuing into the post-September 11 era, Plane Queer examines the history of men who joined workplaces customarily identified as female-oriented. It examines the various hardships these men faced at work, paying particular attention to the conflation of gender-based, sexuality-based, and AIDS-based discrimination. Tiemeyer also examines how this heavily gay-identified group of workers created an important place for gay men to come out, garner acceptance from their fellow workers, fight homophobia and AIDS phobia, and advocate for LGBT civil rights. All the while, male flight attendants facilitated key breakthroughs in gender-based civil rights law, including an important expansion of the ways that Title VII of the 1964 Civil Rights Act would protect workers from sex discrimination. Throughout their history, men working as flight attendants helped evolve an industry often identified with American adventuring, technological innovation, and economic power into a queer space.
About the Author
---
Phil Tiemeyer is Associate Professor at Kansas State University.
Praise For…
---
"A stunning success and an enormously important contribution to not only LGBT history, but also to the labor, feminist, legal, aviation, and AIDS historiographic literatures. . . . Plane Queer is essential reading for anybody interested in LGBT history."
— Daily Kos
"In this seemingly narrow demographic, Tiemeyer finds notable achievements in equal rights, from the first workplace health benefits for domestic partners, in 2001, to a 1984 legal decision forcing an airline to reinstate a flight attendant with AIDS, which he argues was a key step in the run-up to the 1990 Americans With Disabilities Act."
— Philadelphia Inquirer
"Meticulously researched,
Plane Queer
offers a searching analysis of gay life during this era."
— Havard Gay & Lesbian Review
"Tiemeyer's fascinating, in-depth study reveals that the very assumption that male flight attendants are gay has led to major conflicts--and major progress."
— Passport Magazine
"Contributes significantly to the small but growing body of scholarship on aviation in the United States . . . [and provides] an admirable response to various calls for a revisioned aerospace history, one that takes into account currents in mainstream historical circles and is willing to deal realistically with aviation/spaceflight's role in American culture."
— American Studies
"Tiemeyer's decision to consider this history from a male perspective was wise since it doesn't down play or sidebar the experience of women, but in fact helps to heighten the fact that gender and sexuality were at the center of corporate decision making related to this occupation. . . . Overall, the book makes an important and timely contribution to the history of labour, civil rights, LGBT activism, feminism, and aviation."
— Labour/Le Travail
"An outstanding social history of flight attendants and their challenges since the beginning of air transportation. . . . This is social history of a high order; it also successfully draws an important aspect of aerospace history into a larger conversation about the culture of America in the period between the 1960s and the 1980s when the gay flight attendant became a much more public figure."
— Historical Studies in the Natural Sciences