Traveling the 38th Parallel: A Water Line around the World (Hardcover)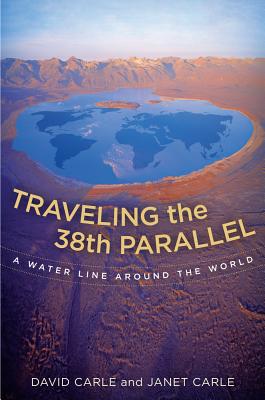 $29.95

NOT on our shelves - Usually Ships in 1-5 Days
Description
---
Between extremes of climate farther north and south, the 38th North parallel line marks a temperate, middle latitude where human societies have thrived since the beginning of civilization. It divides North and South Korea, passes through Athens and San Francisco, and bisects Mono Lake in the eastern Sierra Nevada, where authors David and Janet Carle make their home. Former park rangers, the authors set out on an around-the-world journey in search of water-related environmental and cultural intersections along the 38th parallel. This book is a chronicle of their adventures as they meet people confronting challenges in water supply, pollution, wetlands loss, and habitat protection. At the heart of the narrative are the riveting stories of the passionate individuals—scientists, educators, and local activists—who are struggling to preserve some of the world's most amazing, yet threatened, landscapes.

Traveling largely outside of cities, away from well-beaten tourist tracks, the authors cross Japan, Korea, China, Turkmenistan, Turkey, Greece, Sicily, Spain, Portugal, the Azores Islands, and the United States—from Chesapeake Bay to San Francisco Bay. The stories they gather provide stark contrasts as well as reaffirming similarities across diverse cultures. Generously illustrated with maps and photos, Traveling the 38th Parallel documents devastating environmental losses but also inspiring gains made through the efforts of dedicated individuals working against the odds to protect these fragile places.


About the Author
---
David and Janet Carle were state park rangers at Mono Lake Tufa State Reserve for twenty years and have taught at Cerro Coso Community College in Mammoth Lakes. Janet is the editor of the California State Park Rangers Association journal, The Wave. David is the author of numerous books including Introduction to Earth, Soil and Land in California, Introduction to Water in California, Introduction to Fire in California, and Introduction to Air in California (all by UC Press).
Praise For…
---
"A lucid, well-written book that moves the reader from the salty shores of Mono Lake to the demilitarized zone between North and South Korea with equal ease. It reads more like an adventure novel than a non-fiction travel book."
— Mammoth Times


"Explores the faultlines of water shortage, pollution and environment and the human stories that emerge out of them, beyond the news headlines. An ode to fragile places and the people trying to rescue them."
— Skift

"The [authors'] stories are inspiring, sometimes heartbreaking, and should whet the appetite for more information about the history and environment of the areas. . . . Recommended."
— CHOICE

"David and Janet Carle illuminate an environmental discussion on waterways and wetlands with accounts of their travel across the Northern Hemisphere. They spent twenty years as park rangers at Mono Lake Tufa State Reserve in California, and the park's location on the thirty-eighth parallel helped inspire the clever theme of their global adventure. . . . The authors acknowledge the complexity of these issues while also recognizing the many like-minded people around the world who are working to address the issues in meaningful and sustainable ways."
— Foreword Reviews