Learning about Cretaceous Dinosaurs (Dover Little Activity Books) (Paperback)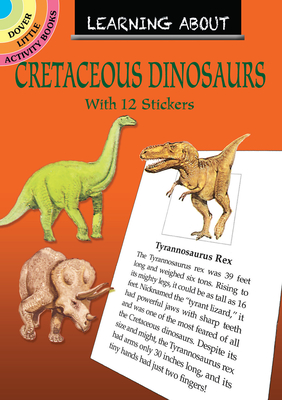 $1.99

On Our Shelves Now. Click on the title to see details.
Description
---
Dinosaur-loving youngsters will enjoy learning about their favorite prehistoric creatures with the help of this informative, hands-on activity book. Each page includes carefully researched information about one of 12 different dinosaurs: tyrannosaurus rex, triceratops, ankylosaurus, alamosaurus, iguanodon, parasaurolophus, and six others, as well as a space for one of the finely detailed stickers included. Children simply select a sticker, place it on the appropriate page, and read about the awesome earth shakers of the Cretaceous period.
About the Author
---
Jan Sovak is an illustrator, designer, and fine artist recognized as one of Canada's foremost natural history illustrators. With advanced degrees in both fine art and zoology, Jan has had his work published in over 170 books in more than 15 languages. His illustrations have also appeared on educational television and on Discovery Channel Worldwide.