The Communist Manifesto and Other Revolutionary Writings: Marx, Marat, Paine, Mao Tse-Tung, Gandhi and Others (Paperback)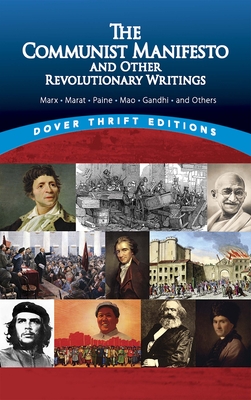 Description
---
This concise anthology presents a broad selection of writings by the world's leading revolutionary figures. Spanning three centuries, the works include such milestone documents as the Declaration of Independence (1776), the Declaration of the Rights of Man (1789), and the Communist Manifesto (1848). It also features writings by the Russian revolutionaries Lenin and Trotsky; Marat and Danton of the French Revolution; and selections by Jean-Jacques Rousseau, Emma Goldman, Mohandas Gandhi, Mao Zedong, and other leading figures in revolutionary thought.
An essential collection for anyone interested in the issues, ideas, and history of the major revolutions of modern times, this book will prove an enlightening companion to students of this genre. Includes a selection from the Common Core State Standards Initiative: The Declaration of Independence.
About the Author
---
Bob Blaisdell is the editor of several successful Dover anthologies, including Elizabethan Poetry, Famous Documents and Speeches of the Civil War, and The Wit and Wisdom of Abraham Lincoln.