Search for Books
ABA Mobile Menu
The Truffle Underground: A Tale of Mystery, Mayhem, and Manipulation in the Shadowy Market of the World's Most Expensive Fungus (Paperback)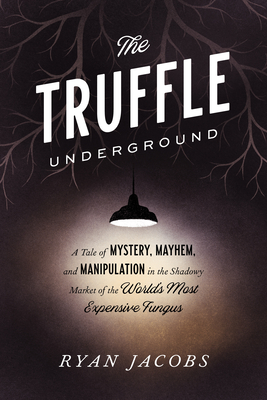 $16.00
On Our Shelves Now. Click on the title to see details.
Staff Reviews
---
Most of my nonfiction reading tends to focus on food writing, and Ryan Jacob's account of the crazy world of truffles did not disappoint! I had no idea that there was so much shadiness happening during pretty much every step between looking for, finding, selling, and getting truffles onto diner's plates. This is well-written and well-researched investigative journalism into a world I really knew nothing about. A fascinating read!
— From
Stephanie's Recommendations
Behind the mythic allure of this heavenly foodstuff lies a disturbing past and perhaps an even more troubling future. As demand grows and supplies dwindle, truffles of aristocratic France and Italy have become that rare commodity people will seemingly go to any length to protect, obtain, replicate, or counterfeit. Ryan Jacobs offers us a captivating, multifaceted look at this secretive, and often violent, culinary subculture.
— From
Harry's Recommendations
Description
---
"The ultimate truffle true crime tale"*: A thrilling journey through the hidden underworld of the world's most prized luxury ingredient.

*Bianca Bosker, New York Times bestselling author of Cork Dork

Beneath the gloss of star chefs and crystal-laden tables, the truffle supply chain is touched by theft, secrecy, sabotage, and fraud. Farmers patrol their fields with rifles and fear losing trade secrets to spies. Hunters plant poisoned meatballs to eliminate rival truffle-hunting dogs. Naive buyers and even knowledgeable experts are duped by liars and counterfeits.

Deeply reported and elegantly written, this page-turning exposé documents the dark, sometimes deadly crimes at each level of the truffle's path from ground to plate, making sense of an industry that traffics in scarcity, seduction, and cash. Through it all, a question lingers: What, other than money, draws people to these dirt-covered jewels?

Praise for The Truffle Underground

"Investigative journalist and first-time author Jacobs does a remarkable job reporting from the front lines of the truffle industry, bringing to vivid life French black-truffle farmers, Italian white-truffle foragers, and their marvelously well-trained dogs."—Booklist (starred review)

"In The Truffle Underground, Ryan Jacobs presents a lively exposé of the truffle industry, reporting on the crimes that 'haunt the whole supply chain.' . . . Even if truffles are beyond your pay grade, there is plenty of enjoyment to be had in the sheer devilment portrayed in this informative and appetizing book."—The Wall Street Journal

"You'll never look at truffle fries the same way after reading this book. . . .  You can practically smell the soil as you follow truffle farmers and bandits through the groves and fields of France and Italy where the fungi are harvested and stolen."—Outside, "Five Favorite Summer Reads"

"[The] book is a rigorously reported, carefully written, endlessly interesting immersion in a high-stakes subculture."—San Francisco Chronicle

"Jacobs takes us on an eye-opening journey through the prized mushroom's supply chain and the global black market for these tubers in this tale of theft, deceit, and high-stakes secrets."—Real Simple
About the Author
---
Ryan Jacobs is an investigative reporter and has written for The Atlantic, Mother Jones, and Pacific Standard, where he serves as deputy editor and leads the magazine's investigations desk. Before joining Pacific Standard, he covered international crime for The Atlantic's global channel, reporting on the largest diamond heist in French history, international carbon market scams, and the dark side of the truffle trade, among other subjects of intrigue. He graduated summa cum laude from Northwestern University's Medill School of Journalism.
Praise For…
---
"Jacobs is an unstoppable and captivating guide through the dark underbelly of the world's most glamorous fungus. This is the ultimate truffle true crime tale."—Bianca Bosker, New York Times bestselling author of Cork Dork

"The thrilling new book The Truffle Underground has all the dirt on this prized fungus."—Mother Jones 

"The Truffle Underground is as much about human nature as it is about a little-known corner of the food industry. In the guise of a crisply written and engaging story about a rare, astronomically priced delicacy, Jacobs has produced a contemporary morality tale about capitalism and consumerism."—Los Angeles Review of Books

"The Orchid Thief of truffles."—BookRiot 

"This well-researched, well-written book is a thoroughly enjoyable read."—New York Journal of Books

"The Truffle Underground is an eye-opening book, one that will make you rethink not only your meals and the people providing them, but also the hidden economies undergirding so many of our modern habits."—Crime Reads

"I love this book so much."—Jess Lahey, the New York Times bestselling author of The Gift of Failure

"[A] riveting debut . . . Ryan Jacobs weaves the fascinating scientific and historical backstory of the elusive culinary delicacy known as truffles with the stealthy feel of a diamond heist or spy operation. . . . The Truffle Underground is an eye-opening tale."—Bookpage

"[A] fascinating work . . . This deeply researched and eye-opening account of the lengths people will go for wealth, gratification, and a taste of the prized fungus will captivate readers."—Publishers Weekly 

"A full-fledged mystery and exposé about a luxurious delicacy that comes at a far higher price than you ever imagined."—Fortune

"The Truffle Underground is a smart, revealing exposé into how that expensive piece of fungus made it to your plate, and the extreme lengths scammers go to farm and steal them. True-crime nerds, this is the unsuspecting story you've been waiting for."—Thrillist

"[A] really fantastic, deeply reported, can't-put-it-down new book. Extraordinary."—Howie Kahn, Prince Street Podcast 

"A fascinating read."—Destination Eat Drink Podcast 

"Fans of weird true crime will eat it up."—BuzzFeed