Jerome Robbins, by Himself: Selections from His Letters, Journals, Drawings, Photographs, and an Unfinished Memoir (Hardcover)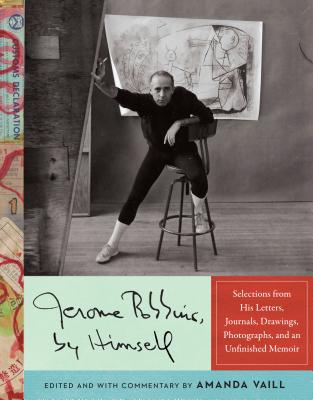 List Price: $40.00
Our Price: $14.98
(Save: $25.02 63%)
Description
---
The titanic choreographer, creator of memorable ballets, master of Broadway musicals, legendary show doctor and director, now revealed in his own words--the closest we will get to a memoir/autobiography--from his voluminous letters, journals, notes, diaries, never before published. Edited, and with commentary by Amanda Vaill, author of Robbins's biography, Somewhere, 2006 ("I can't imagine a better book about Robbins ever being written"--Terry Teachout, chief drama critic, The Wall Street Journal).

He was famous for reinventing the Broadway musical, creating a vernacular American ballet, pushing the art form to new boundaries where it had never gone before, integrating dance seamlessly with character, story and music, and as Associate Artistic Director, Ballet Master, and Co-Artistic Director, with George Balanchine, shaping the New York City Ballet with daring and brio for more than five decades through his often startling choreography in ballet's classical idiom. He was known as the king of Broadway, the most sought-after director-choreographer and show doctor who gave shape to On the Town (1944), Call Me Madam (1950), The King and I (1951), Wonderful Town (1953), Peter Pan (1954), The Pajama Game (1954), Silk Stockings (1955), West Side Story (1957), Gypsy (1959), A Funny Thing Happened on the Way to the Forum (1962), Funny Girl (1964), Fiddler on the Roof (1964), and many other classic musicals, winning four Tony Awards, two Oscars, and an Emmy. He shocked and betrayed those he loved and worked with by naming names to the House Un-American Activities Committee. ("I betrayed my manhood, my Jewishness, my parents, my sister," he wrote in a diary. "I can't undo it.")
Now, Amanda Vaill, Jerome Robbins biographer and authority, drawing on the vast and closely held Robbins archives, has put together a selection of his writings, giving us a sense of his extraordinary range as a thinker and artist, as well as a surprising and revealing glimpse into the mind and heart of this towering cultural giant.
Interspersed throughout, his correspondence with George Balanchine, Leonard Bernstein, Aaron Copland, Robert Graves, Lincoln Kirstein, Arthur Laurents, Tanaquil Le Clercq (the fourth of Balanchine's four wives, with whom Robbins was also in love), Laurence Olivier, Stephen Sondheim, et al.
About the Author
---
AMANDA VAILL is the author of Everybody Was So Young, a finalist for the National Book Critics' Circle Award, Hotel Florida, and Somewhere, for which she received a Guggenheim Fellowship. She has written on arts and culture for New York, Esquire, Ballet Review, Architectural Digest, Town & Country, and other publications. She lives in New York City.
Praise For…
---
"Personal, revealing, and just plain fun ... a grab-bag of musical-theatre nuggets."
--Michael Giltz, Broadway Direct
"Impeccably edited and designed with unostentatious elegance, Jerome Robbins, by Himself is something not far removed from Robbins's never-finished autobiography, a richly involving self-portrait of one of the most characteristic American artists of the 20th century."
--Terry Teachout, Commentary
"Writing was the habit of a lifetime for the mind behind West Side Story, the man whose depiction of Sholem Aleichem's Tevye stories in Fiddler on the Roof enjoyed a run on Broadway of more than 3,000 appearances. Ms. Vaill has produced a hit of her own out of Robbins's letters, diaries, sketches and notes ... a rich selection ... filled with vivid details."
--John Check, The Wall St. Journal

"A revelation ... a captivating self-portrait, of the man, the artist, and his times."
--Lew Whittington, New York Journal of Books
"A fascinating selection of illustrations, photographs, and writings ... provocative and illuminating, this portrait will delight dance enthusiasts."
--Publishers Weekly
"These diaries and letters by a choreographer who wasn't thought to be a writer, are as thrilling as they are revelatory, and Vaill has done a magnificent job of assembling and giving order to this treasure trove. Through the eyes of the man who was instrumental in its evolution, we get a close-up of the great postwar changes in dance--the Americanization of ballet, the golden era of the musical comedy. Along with candid notes to and about lovers both male and female, there are work-related letters to his colleagues and heartrending ones to his muse Tanaquil Le Clercq. Most entrancing of all are Robbins's descriptions of specific dances (like Fancy Free and Anna and the King) as they take shape in his imagination, step by step, gesture by gesture."
--Molly Haskell