Gratitude (Hardcover)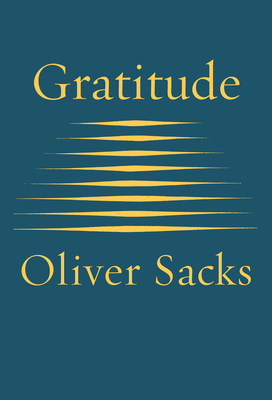 $25.00

NOT on our shelves - Usually Ships in 1-5 Days
Description
---
"My predominant feeling is one of gratitude. I have loved and been loved. I have been given much and I have given something in return. Above all, I have been a sentient being, a thinking animal, on this beautiful planet, and that in itself has been an enormous privilege and adventure."
—Oliver Sacks

No writer has succeeded in capturing the medical and human drama of illness as honestly and as eloquently as Oliver Sacks. 

During the last few months of his life, he wrote a set of essays in which he movingly explored his feelings about completing a life and coming to terms with his own death.

"It is the fate of every human being," Sacks writes, "to be a unique individual, to find his own path, to live his own life, to die his own death."

Together, these four essays form an ode to the uniqueness of each human being and to gratitude for the gift of life.

"Oliver Sacks was like no other clinician, or writer. He was drawn to the homes of the sick, the institutions of the most frail and disabled, the company of the unusual and the 'abnormal.' He wanted to see humanity in its many variants and to do so in his own, almost anachronistic way—face to face, over time, away from our burgeoning apparatus of computers and algorithms. And, through his writing, he showed us what he saw."
—Atul Gawande, author of Being Mortal
About the Author
---
OLIVER SACKS was born in 1933 in London and was educated at Queen's College, Oxford. He completed his medical training at San Francisco's Mount Zion Hospital and at UCLA before moving to New York, where he soon encountered the patients whom he would write about in his book Awakenings.

Dr. Sacks spent almost fifty years working as a neurologist and wrote many books, including The Man Who Mistook His Wife for a Hat, Musicophilia, and Hallucinations, about the strange neurological predicaments and conditions of his patients. The New York Times referred to him as "the poet laureate of medicine," and over the years he received many awards, including honors from the Guggenheim Foundation, the National Science Foundation, the American Academy of Arts and Letters, and the Royal College of Physicians. His memoir, On the Move, was published shortly before his death in August 2015.

For more information, please visit www.oliversacks.com.
Praise For…
---
"A series of heart-rending yet ultimately uplifting essays….A lasting gift to readers….unlike other writers who have reported from the front lines of mortality, Sacks did not focus on his illness, his medical ordeal or spirituality, but on "what is meant by living a good and worthwhile life—achieving a sense of peace within oneself. Sacks not only achieved that peace but managed to convey it beautifully in these essays. He found positive ways to think about everything, including his growing frailty: Perhaps, he suggests in the book's final pages, he was in the Sabbath of his life, "when one can feel that one's work is done, and one may, in good conscience, rest." His tender book leaves readers with a similar sense of tranquility and, indeed, gratitude." —Heller McAlpin, Washington Post
                                
"Elegant….a lovely slim volume." —Melissa Dahl, New York Magazine

"Powerful….The book chronicles the famous author's thoughts, wishes, regrets, and, above all, feelings of love, happiness, and gratitude even as he faced the cancer that ended his life last year at 82….the material offers incisive, poignant observations….A perfect gift for thoughtful readers, and a title that belongs in science and biography collections." —Library Journal, *starred review*
 
"The neurologist and author died of cancer in August. Between 2013 and 2015, he wrote four moving essays, published in The New York Times, reflecting on his life and facing mortality. They are collected in this slim volume, a coda to Sacks' remarkable career." —Tom Beer, Newsday
 
"A book defined by celebration, not sadness." —Danny Heitman, The Advocate
 
"This is a worthy little chapbook for the lovers of Oliver Sacks." —Edith Cody-Rice,  The Millstone
 
"The volume is tiny—short enough to read easily in one sitting—but it's huge in heart. Oliver Sack's just-published book  "Gratitude," consists of four essays the famous neurologist and chronicler of  human quirks wrote in the months before his death of cancer this summer at 82. It is, in effect, a mini-memoir, a beautiful meditation on what it means to live a good life." —Sydney Trent, Washington Post
 
"In these four graceful essays written in the two years before he died, Oliver Sacks looks at life, old age — and death, square in the eye….First published individually in the New York Times, together these pieces form a wise and profound quartet." —Laurie Hertzel, Minneapolis Star-Tribune
 
"Gratitude is a bittersweet and absolutely beautiful read in its entirety." —Maria Popova, Brainpickings.org

"A humane look at his own life, and death, told with good humor, acceptance, and that charming gratitude that had such a strong hold on him. If you know his writings, this will bring them to a thoughtful and enlightened conclusion; if you do not, the little book is a not just a farewell but will do for a grand introduction." —The Dispatch