Search for Books
ABA Mobile Menu
The Great Tree of Avalon 2: Shadows on the Stars (Mass Market Paperback)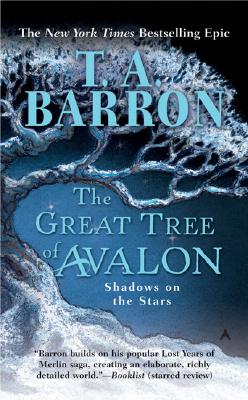 $7.99
If not in stock, we can Special Order from the publisher
Description
---
Racing against time, three companions embark on separate, far-reaching quests. Elli must outwit a wrathful dragon and a deadly assassin on her search for a powerful crystal; Scree must confront the darkest secrets of his own past; and Tamwyn must journey into the heartwood of Avalon itself to discover the path to the highest branches—a path leading all the way to the stars.
To succeed, they will need to solve Avalon's most elusive mysteries. And they will need to travel vast distances—both in their world and in their hearts.
About the Author
---
T.A. Barron is the award-winning author of fantasy novels such as "The Lost Years of Merlin" epic--soon to be a major motion picture. He serves on a variety of environmental and educational boards including The Nature Conservancy and The Land and Water Fund of the Rockies, and is the founder of a national award for heroic children. Following a life-changing decision to leave a successful business career to write full-time in 1990, Barron has written seventeen books, but is happiest when on the mountain trails with his wife, Currie, and their five children.
Praise For…
---
"Barron builds on his popular Lost Years of Merlin saga, creating an elaborate, richly detailed world."—Booklist

"In the tradition of high classic fantasy, this is a lengthy novel of the battle between good and evil…Barron touches on many worthy themes: the power of one person to make a difference, trusting in one's abilities, the fragility of our environment, the need to honor all forms of life."—School Library Journal



"Aficionados of Arthuriana and T. A. Barron get a double treat in the form of Shadows on the Stars."—Publishers Weekly



"In Barron's richly imagined world, he creates an intriguing plot that involves a heroic quest to conquer the powers of Darkness…With skillfully executed text, he develops strong, believable characters with whom young readers can identify."—The Jackson Clarion-Ledger



"T. A. Barron does an excellent job of weaving three story lines together…The events, descriptions, and maturation of the main characters are all skillfully drawn, leaving the reader with that delicious sense of reluctance when faced with having to put the book down and attend to more pressing matters."—Wolf Moon Press Journal