In the Middle of the Night (Mass Market)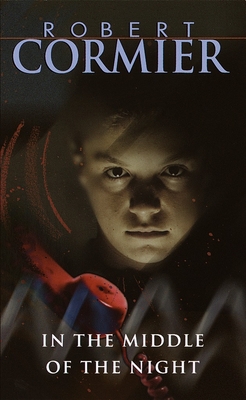 $7.99

If not in stock, we can Special Order from the publisher
Description
---
Eight years before Denny Colbert was born, his father was involved in a tragic accident that killed 22 children. Now Denny is 16, and all he wants is to be like other kids his age. But he isn't allowed to answer the telephone or have a driver's license, and his family is constantly moving from town to town--all because people can't forget what happened long ago.



When Denny defies his parents one afternoon and answers the telephone, he finds himself drawn into a plot for revenge which may prove deadly.
About the Author
---
Robert Cormier (pronounced kor-MEER) lived all his life in Leominster, Massachusetts, a small town in the north-central part of the state, where he grew up as part of a close, warm community of French Canadian immigrants. His wife, Connie, also from Leominster, still lives in the house where they raised their three daughters and one son–all adults now. They never saw a reason to leave. "There are lots of untold stories right here on Main Street," Cormier once said.

A newspaper reporter and columnist for 30 years (working for the Worcester Telegram and Gazette and the Fitchburg Sentinel), Cormier was often inspired by news stories. What makes his works unique is his ability to make evil behavior understandable, though, of course, still evil. "I'm very much interested in intimidation," he told an interviewer from School Library Journal. "And the way people manipulate other people. And the obvious abuse of authority." All of these themes are evident in his young adult classic and best-known book, The Chocolate War. A 15-year-old fan of his said, "You always write from inside the person."

Cormier traveled the world, from Australia (where he felt particularly thrilled by putting his hand in the Indian Ocean) and New Zealand to most of the countries in Europe, speaking at schools, colleges, and universities and to teacher and librarian associations. He visited nearly every state in the nation. While Cormier loved to travel, he said many times that he also loved returning to his home in Leominster.

Cormier was a practicing Catholic and attended parochial school, where in seventh grade, one of his teachers discovered his ability to write. But he said he had always wanted to be a writer: "I can't remember a time when I wasn't trying to get something down on paper." His first poems were published in the Leominster Daily Enterprise, and his first professional publication occurred while he was a freshman at Fitchburg State College. His professor, Florence Conlon, sent his short story, without his knowledge, to The Sign, a national Catholic magazine. The story, titled "The Little Things That Count," sold for $75.

Cormier's first work as a writer was at radio station WTAG in Worcester, MA, where he wrote scripts and commercials from 1946 to 1948. In 1948, he began his award-winning career as a newspaperman with the Worcester Telegram, first in its Leominster office and later in its Fitchburg office. He wrote a weekly human-interest column, "A Story from the Country," for that newspaper.

In 1955, Cormier joined the staff of the Fitchburg Sentinel, which later became the Fitchburg-Leominster Sentinel and Enterprise, as the city hall and political reporter. He later served as wire and associate editor and wrote a popular twice-weekly column under the pseudonym John Fitch IV. The column received the national K.R. Thomason Award in 1974 as the best human-interest column written that year. That same year, he was honored by the New England Associated Press Association for having written the best news story under pressure of deadline. He left newspaper work in 1978 to devote all his time to writing.

Robert Cormier's first novel, Now and at the Hour, was published in 1960. Inspired by his father's death, the novel drew critical acclaim and was featured by Time magazine for five weeks on its "Recommended Reading" list. It was followed in 1963 by A Little Raw on Monday Mornings and in 1965 by Take Me Where the Good Times Are, also critically acclaimed. The author was hailed by the Newark Advocate as being "in the first rank of American Catholic novelists."

In 1974, Cormier published The Chocolate War, the novel that is still a bestseller a quarter century after its publication. Instantly acclaimed, it was also the object of censorship attempts because of its uncompromising realism. In a front-page review in a special children's issue of The New York Times Book Review, it was described as "masterfully structured and rich in theme," and it went on to win countless awards and honors, was taught in schools and colleges throughout the world, and was translated into more than a dozen languages. I Am the Cheese followed in 1977 and After the First Death in 1979.

These three books established Cormier as a master of the young adult novel. In 1991, the Young Adult Services Division of the American Library Association presented him with the Margaret A. Edwards Award, citing the trio of books as "brilliantly crafted and troubling novels that have achieved the status of classics in young adult literature."

In 1982, Cormier was honored by the National Council of Teachers of English and its Adolescent Literature Assembly (ALAN) for his "significant contribution to the field of adolescent literature" and for his "innovative creativity."

8 Plus 1, an anthology of short stories that have appeared in such publications as the Saturday Evening Post, The Sign, and Redbook, was published in 1980. In later years, many of the stories in the collection, notably "The Moustache," "President Cleveland, Where Are You?" and "Mine on Thursdays," appeared in anthologies and school textbooks. The collection also received the World of Reading Readers' Choice Award, sponsored by Silver Burdett & Ginn, especially notable because young readers voted for Cormier to receive the prize.

I Have Words to Spend, a collection of his newspaper and magazine columns, was published in 1991, assembled and edited by his wife, Connie.

Robert Cormier's other novels include The Bumblebee Flies Anyway, 1983; Beyond the Chocolate War, 1985; Fade, 1988; Other Bells for Us to Ring, 1990; We All Fall Down, 1991; Tunes for Bears to Dance To, 1992; In the Middle of the Night, 1995; Tenderness, 1997; Heroes, 1998; and Frenchtown Summer, 1999. This novel won the Los Angeles Times Book Prize for Young Adult Fiction in April 2000. All his novels have won critical praise and honors.

In the Middle of the Night and Tenderness were short-listed for the Carnegie Medal in England, and Heroes received a "Highly Commended" citation for that same award, unique honors because the Carnegie is traditionally awarded to a British book.

Cormier's novels have frequently come under attack by censorship groups because they are uncompromising in their depictions of the problems young people face each day in a turbulent world. Teachers and librarians have been quick to point out that his novels are eminently teachable, valuable, and moral. His novels are taught in hundreds of schools and in adolescent literature courses in colleges and universities.

Though many of his books are described as written for young adults, in fact people of all ages read and enjoy Cormier's work. His themes of the ordinariness of evil and what happens when good people stand by and do nothing are treated seriously, and he never provides the easy comfort of a happy ending. Cormier's gripping stories explore some of the darker corners of the human psyche, but always with a moral focus and a probing intelligence that compel readers to examine their own feelings and ethical beliefs.

In an interview last year, Cormier was asked if he had accomplished what he set out to do at the beginning of his writing career. He answered with characteristic humility: "Oh, yes. My dream was to be known as a writer and to be able to produce at least one book that would be read by people. That dream came true with the publication of my first novel–and all the rest has been a sweet bonus. All I've ever wanted to do, really, was to write." That writing has left the world a legacy of wonderful books, a body of work that will endure.
Praise For…
---
We All Fall Down

An ALA Best Book for Young Adults

"Again, the inimitable Cormier luridly explores the fouler corners of our spiritual attics." -- Kirkus Reviews, Pointer

"[We All Fall Down] is sure...to find a devoted following among the kids themselves, who will recognize and embrace the authenticity of the achingly awful adolescent world that Cormier has created."

-- School Library Journal, Starred

Tunes for Bears to Dance To

"Compelling...sharp, short, and to the point...it will not be easily forgotten." -- School Library Journal

"In the classic Cormier fashion, the conclusion is unexpected...a thought-provoking story." -- Kirkus Reviews

"Suspenseful storytelling."

-- Bulletin of the Center for Children's Books

"Cormier's a compelling storyteller, and the pace is inexorable." -- Booklist