Harry Potter and the Prisoner of Azkaban (Hardcover)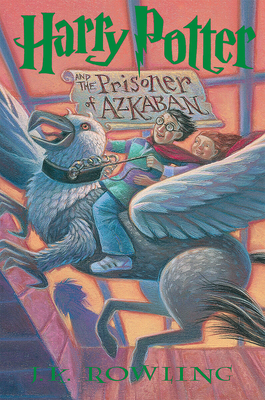 List Price: $26.99
Our Price: $14.00
(Save: $12.99 48%)
On Our Shelves Now. Click on the title to see details.
Other Books in Series
This is book number 3 in the Harry Potter series.
Description
---
For twelve long years, the dread fortress of Azkaban held an infamous prisoner named Sirius Black. Convicted of killing thirteen people with a single curse, he was said to be the heir apparent to the Dark Lord, Voldemort.Now he has escaped, leaving only two clues as to where he might be headed: Harry Potter's defeat of You-Know-Who was Black's downfall as well. And the Azkaban guards heard Black muttering in his sleep, "He's at Hogwarts . . . he's at Hogwarts."Harry Potter isn't safe, not even within the walls of his magical school, surrounded by his friends. Because on top of it all, there may well be a traitor in their midst.
About the Author
---
J.K. Rowling is the author of the seven Harry Potter books, first published between 1997 and 2007. The adventures of Harry, Ron, and Hermione at Hogwarts School of Witchcraft and Wizardry have sold over 500 million copies, been translated into over 80 languages, and made into eight blockbuster films. Alongside the book series, she has written three short companion volumes for charity, including Fantastic Beasts and Where to Find Them, which later became the inspiration for a new series of films, also written by J.K. Rowling. She then continued Harry's story as a grown-up in a stage play, Harry Potter and the Cursed Child, which she wrote with playwright Jack Thorne and director John Tiffany, and which has been playing to great acclaim in theatres in Europe, North America, and Australia.

J.K. Rowling has received many awards and honors for her writing. She also supports a number of causes through her charitable trust, Volant, and is the founder of the children's charity Lumos, which fights for a world without orphanages and institutions, and reunites families.

For as long as she can remember, J.K. Rowling has wanted to be a writer, and is at her happiest in a room, making things up. She lives in Scotland with her family.

Mary GrandPré has illustrated more than twenty beautiful books, including The Noisy Paint Box by Barb Rosenstock, which received a Caldecott Honor; Cleonardo, the Little Inventor, of which she is also the author; and the original American editions of all seven Harry Potter novels. Her work has also appeared in the New Yorker, the Atlantic Monthly, and the Wall Street Journal, and her paintings and pastels have been shown in galleries across the United States. Ms. GrandPré lives in Sarasota, Florida, with her family.
Praise For…
---
PRAISE FOR HARRY POTTER AND THE SORCERER'S STONE (September, 1998)"A wonderful first novel. Much like Roald Dahl, J.K. Rowling has a gift for keeping the emotions, fears, and triumphs of her characters on a human scale, even while the supernatural is popping out all over. The book is full of wonderful, sly humor [and] the characters are impressively three-dimensional (occasionally, four-dimensional!) and move along seamlessly through the narrative. "Harry Potter and the Sorcerer's Stone" is as funny, moving and impressive as the story behind its writing. Like Harry Potter, [J.K. Rowling] has wizardry inside, and has soared beyond her modest Muggles surroundings to achieve something quite special."--The New York Times Book Review"A charming, imaginative, magical confection of a novel...a glorious debut, a book of wonderful comic pleasures and dizzying imaginative flights. There is no cause to doubt Rowling's abilities and promise, and every reason to expect great things, truly great things, from her in the future."--The Boston Sunday Globe"You don't have to be a wizard or a kid to appreciate the spell cast by Harry Potter."--USA Today"The story delights and the writing gives you goosebumps, the good kind."--Chicago Tribune"The huge cast of characters, set against a fantastic backdrop with good doses of action, humor and fun, will surely captivate..."--Seattle Times* "Readers are in for a delightful romp with this award-winning debut from a British author sho dances in the footsteps of P.L. Travers and Roald Dahl. There is enchantment, suspense, and danger galore (as well as enough creepy creatures to satisfy the most bogey-men-loving readers, and even a magical game of soccerlike Quidditch to entertain sports fans)."--Publishers Weekly, starred review* "After reading this entrancing fantasy, readers will be convinced that they, too, could take the train to Hogwarts School, if only they could find Platform Nine and Three Quarters at the King's Cross Station."--School Library Journal, starred review* "Rowling's first novel is a brilliantly imagined and beautifully written fantasy that incorporates elements of traditional British school stories without once violating the magical underpinnings of the plot. In fact, Rowling's wonderful ability to put a fantastic spin on sports, student rivalry, and eccentric faculty contributes to the humor, charm, and well, delight of her utterly captivating story."--Booklist, starred review"A rousing first novel.... This hugely enjoyable fantasy is filled with imaginative details, from oddly flavored jelly beans to dragons' eggs hatched on the hearth.."--Kirkus Reviews

PRAISE FOR HARRY POTTER AND THE SORCERER'S STONE (September, 1998)"A wonderful first novel. Much like Roald Dahl, J.K. Rowling has a gift for keeping the emotions, fears, and triumphs of her characters on a human scale, even while the supernatural is popping out all over. The book is full of wonderful, sly humor [and] the characters are impressively three-dimensional (occasionally, four-dimensional!) and move along seamlessly through the narrative. "Harry Potter and the Sorcerer's Stone" is as funny, moving and impressive as the story behind its writing. Like Harry Potter, [J.K. Rowling] has wizardry inside, and has soared beyond her modest Muggles surroundings to achieve something quite special."--The New York Times Book Review"A charming, imaginative, magical confection of a novel...a glorious debut, a book of wonderful comic pleasures and dizzying imaginative flights. There is no cause to doubt Rowling's abilities and promise, and every reason to expect great things, truly great things, from her in the future."--The Boston Sunday Globe"You don't have to be a wizard or a kid to appreciate the spell cast by Harry Potter."--USA Today"The story delights and the writing gives you goosebumps, the good kind."--Chicago Tribune"The huge cast of characters, set against a fantastic backdrop with good doses of action, humor and fun, will surely captivate..."--Seattle Times* "Readers are in for a delightful romp with this award-winning debut from a British author sho dances in the footsteps of P.L. Travers and Roald Dahl. There is enchantment, suspense, and danger galore (as well as enough creepy creatures to satisfy the most bogey-men-loving readers, and even a magical game of soccerlike Quidditch to entertain sports fans)."--Publishers Weekly, starred review* "After reading this entrancing fantasy, readers will be convinced that they, too, could take the train to Hogwarts School, if only they could find Platform Nine and Three Quarters at the King's Cross Station."--School Library Journal, starred review* "Rowling's first novel is a brilliantly imagined and beautifully written fantasy that incorporates elements of traditional British school stories without once violating the magical underpinnings of the plot. In fact, Rowling's wonderful ability to put a fantastic spin on sports, student rivalry, and eccentric faculty contributes to the humor, charm, and well, delight of her utterly captivating story."--Booklist, starred review"A rousing first novel.... This hugely enjoyable fantasy is filled with imaginative details, from oddly flavored jelly beans to dragons' eggs hatched on the hearth.."--Kirkus Reviews