Team Dog: How to Train Your Dog--the Navy SEAL Way (Paperback)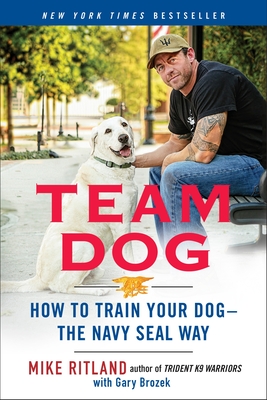 $18.00

If not in stock, we can Special Order from the publisher
Description
---
Dog owners can experience the close relationship and exceptional training of combat dogs with this New York Times bestselling dog training book from a former Navy SEAL.
 
In Team Dog, Ritland taps into fifteen years' worth of experience and shares, explaining in accessible and direct language, the science behind the importance of gaining a dog's trust and then offering invaluable steps for how to achieve any level of obedience. His unique approach uses entertaining examples and anecdotes from his work with dogs on and off the battlefield and direct tips from the Navy SEAL guidebook to teach dog owners how to: choose the perfect dog for their household, establish themselves as the "team leader," master "command and control," employ "situational awareness," and to solidify their dog's position as the family's ultimate best friend.
 
Team Dog introduces pet owners everywhere to the new and distinctive authority on how to train your dog...the Navy SEAL way.
About the Author
---
Mike Ritland joined the Navy in 1996, and after twelve years started his own company to train dogs for the SEAL teams. His clients include the Department of Homeland Security, U.S. Customs, the TSA, and the Department of Defense. He is the author of the New York Times bestseller Trident K9 Warriors, which is being adapted for film.
 
Gary Brozek has coauthored and ghostwritten nearly twenty books, including four New York Times bestsellers.
Praise For…
---
Praise for Mike Ritland:

"He's a good dude and doing great things for our 4-legged heroes!" —Larry the Cable Guy

"Perhaps most moving is how this level of trust plays a vital role in the inspiring and hair-raising stories that he shares about different SEAL handler-and-dog teams during deadly missions . . . [Navy SEAL Dogs is a] high-interest offering." —Booklist

"Special force SEALs are elite enough, but SEAL dogs [in Navy SEAL Dogs] are a breed apart. Fascinating . . . About time these heroes got the attention they deserved for a young audience." —Kirkus Reviews

"Navy SEAL Dogs gives a unique insider account of the training and deployment of these special animals and their handlers. Ritland does a superb job of detailing these dogs in combat, as well as the bond between operator and K9." —Howard E. Wasdin, former Navy SEAL and New York Times–bestselling author of I Am a SEAL Team Six Warrior

"After a stellar career in the Teams, Mike Ritland has gone on to train working K9s for some of the most elite units in the U.S. Special Operations community. If you want to learn about these amazing animals, the sacrifices they've made, and their effectiveness in combat, then read Navy SEAL Dogs." —Brandon Webb, former Navy SEAL, New York Times–bestselling author of The Red Circle, and editor in chief of SOFREP.com