The Wanderers (Hardcover)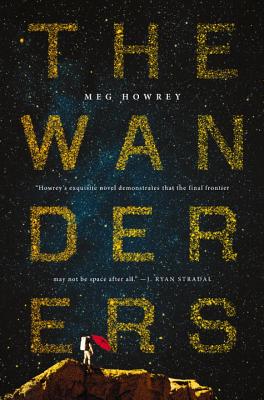 $27.00
Email or call for price.
Staff Reviews
---
If someone asked you to go to Mars, would you want to? The Wanderers is a gorgeously written, character driven novel that follows three astronauts who enter a highly realistic simulator in preparation for humanity's first trip to Mars, as well as their loved ones still on "Earth". I was swept away by these character's inner lives; never has space travel felt more human. This is a novel to savor and share.
— Julia
March 2017 Indie Next List
---
"In The Wanderers, Meg Howrey brilliantly weaves together the vastness of outer space with the intimacy of human nature. Howrey's characters are artfully drawn - full of strengths and failings and each yearning for something in their relationships with others. The Mars simulation at the center of the story represents an exciting new frontier for human beings, but Howrey's astronauts demonstrate that even those driving the larger quest for human greatness are flawed individuals leading complicated lives. This is a wonderfully introspective novel on the meaning of space exploration and what we learn about ourselves when facing the unknown."
— Kelsey O'Rourke (M), Literati Bookstore, Ann Arbor, MI
Description
---
A brilliantly inventive novel about three astronauts training for the first-ever mission to Mars, an experience that will push the boundary between real and unreal, test their relationships, and leave each of them—and their families—changed forever.
 
"A transcendent, cross-cultural, and cross planetary journey into the mysteries of space and self....Howrey's expansive vision left me awestruck."—Ruth Ozeki

"Howrey's exquisite novel demonstrates that the final frontier may not be space after all."—J. Ryan Stradal

In an age of space exploration, we search to find ourselves.
 
In four years, aerospace giant Prime Space will put the first humans on Mars. Helen Kane, Yoshihiro Tanaka, and Sergei Kuznetsov must prove they're the crew for the historic voyage by spending seventeen months in the most realistic simulation ever created. Constantly observed by Prime Space's team of "Obbers," Helen, Yoshi, and Sergei must appear ever in control. But as their surreal pantomime progresses, each soon realizes that the complications of inner space are no less fraught than those of outer space. The borders between what is real and unreal begin to blur, and each astronaut is forced to confront demons past and present, even as they struggle to navigate their increasingly claustrophobic quarters—and each other. 

Astonishingly imaginative, tenderly comedic, and unerringly wise, The Wanderers explores the differences between those who go and those who stay, telling a story about the desire behind all exploration: the longing for discovery and the great search to understand the human heart.
About the Author
---
Meg Howrey is a former dancer who performed with The Joffrey, Eglevsky Ballet, and City Ballet of Los Angeles. She is the author of two previous novels, Blind Sight and The Cranes Dance, and the coauthor of the bestselling novels City of Dark Magic, and City of Lost Dreams, published under the pen name Magnus Flyte. Her non-fiction has appeared in Vogue and The Los Angeles Review of Books. She currently lives in Los Angeles.
Praise For…
---
"Phenomenal. A transcendent, cross-cultural and cross-planetary journey into the mysteries of space and self. . . . Howrey's expansive vision left me awestruck."—Ruth Ozeki, author of A Tale for the Time Being

"Straddling the fine line between outer space and the world we know, The Wanderers is a breathtakingly honest and incredibly beautiful examination of the heart and soul of humankind. . . .This is a book that isn't like anything you've ever read before."  —Newsweek

"Howrey subtly explores the tensions between our inner and projected selves. Thanks to her wry sense of humor, it totally works. . . .  [A]n often funny story that grows poignant in its final chapters." —The Washington Post

"Fascinating . . . a masterful psychological novel, full of rich characterization and a surprisingly gripping narrative." —Los Angeles Times

"Every single character in The Wanderers feels distinct and vivid, a planet in his or her own right." —Slate

The terrain explored by Meg Howrey in The Wanderers is otherworldly, but the bonds among three astronauts and the loved ones they leave behind for a 17-month mission to Mars feel earthbound and immediate . . . [through] brief, psychologically incisive chapters that drive the story forward." —Nicole Lamy for The New York Times

"Engrossing. . . . Although the contours of a space drama may seem familiar to a 21st-century readership, Howrey, through the poetry of her writing and the richness of her characters, makes it all seem new. A lyrical and subtle space opera." —Kirkus Reviews (starred review)

"With believably fragile and idealistic characters at the helm, Howrey's insightful novel will take readers to a place where they too can 'lift their heads and wonder.'" —Publishers Weekly (starred review)

"Add Howrey's novel, which centers on astronauts exploring both outer and inner space, to the list of must-consume, intergalatic art." —Nylon

"Play[s] with notions of counterfeits and authenticity. . . . Is the Eidolon mission all it appears to be? Or more? The unfolding of that mystery launches this plausible space tale into higher realms of enjoyment." —The Associated Press

"[I]nventive, lyrical and immersive." —BBC.com

"[C]onfronts ageless questions of why humans explore, what they are looking for, and what happens when they find it. Evoking the authenticity of Neal Stephenson's Seveneves with the literary sensitivity of Ann Patchett, Howrey has made the mission-to-Mars motif an exquisite exploration of human space, inner and outer." —Booklist

"Howrey's exquisite novel demonstrates that the final frontier may not be space after all." —J. Ryan Stradal, author of Kitchens of the Great Midwest

"A distinct, shimmering vision of who we are and where we think we want to go.—Peter Nichols, author of The Rocks and A Voyage for Madmen

"Elegant, thoughtful, gorgeously written. A meditation on solitude, connection, aspiration, imagination and reality, which builds effortlessly to moments of immense power and honesty. There are passages near the end of this book that I will never forget." —Charles Yu, author of How to Live Safely in a Science Fiction Universe and Sorry Please Thank You