After Andy: Adventures in Warhol Land (Hardcover)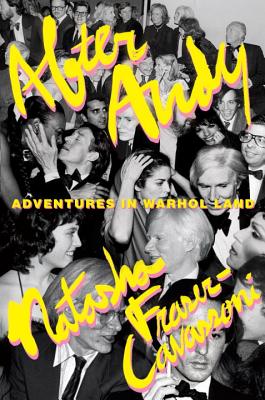 $28.00
Email or call for price.
Description
---
After Andy is Natasha Fraser-Cavassoni's insider's account of working in Andy Warhol's studio and Interview magazine, and explores Warhol's impact on the art world, pop culture, society, and fashion—and how his iconic status gave rise to some of our most influential tastemakers today.
 
Natasha Fraser-Cavassoni met Andy Warhol when she was sixteen, and then on and off over the years before landing in New York City at the Andy Warhol Studio, or as she calls it, "Adventures in Warhol Land." In this witty, page-turning account, she takes readers deep into the Pop artist's world—as well as miles into the stratosphere of the socialites, fashion icons, film stars, rock legends, and art world powerhouses who could be found in his orbit—where she worked with Fred Hughes, Brigid Berlin, Vincent Fremont, and others who were once part of the Factory clan. As the last person hired at the studio before Warhol died in 1987, Fraser-Cavassoni saw firsthand the end of an era and the establishment of a global phenomenon. From the behind-the-scenes disagreements and the assessment of his estate, which included Interview magazine and his art inventory, to the record-breaking auction of his belongings and the publication of his diaries, Fraser-Cavassoni examines the immediate aftermath of Warhol's death and his ever-growing impact, which ranged from New York to Los Angeles and throughout Europe. Interviews with key figures of the art world and dozens of Andy intimates make After Andy and its subject more relevant than ever today.
About the Author
---
Natasha Fraser-Cavassoni is the author of Sam Spiegel, Tino Zervudachi, Dior Glamour, Monsieur Dior, Loulou de la Falaise, BiYan, Vogue on Yves Saint Laurent and Vogue on Calvin Klein. Fraser-Cavassoni was the European Editor for Harper's Bazaar from 1999-2004 after serving as a staff member and journalist at Women's Wear Daily and W magazine. She has taught fashion journalism at the American University of Paris and was coproducer of Inside Dior, a two-part TV documentary. Fraser-Cavassoni lives in Paris with her two daughters.
Praise For…
---
"An endlessly quotable romp that captures the melancholy and magnificence of Warhol's final days and legacy…[After Andy] masterfully winds through anecdotes, scenes and interviews with scores of Warhol's associates, acquaintances and admirers. It is breezy without ever feeling light, channeling Warhol's enigmatic presence."
—Nick Ripatrazone, Rolling Stone

"In this superfun memoir, Fraser-Cavassoni leads the reader on her adventures as a blossoming London "It" girl, and her encounters with movers and shakers from the art, fashion and celebrity worlds orbiting Warhol, with the visionary Pop artist serving as the linking thread.…Many of the memoir's anecdotes…are laugh-out-loud funny."
—Katya Foreman, WWD

"Natasha Fraser-Cavassoni's After Andy opens up a can of Pop art and power."
—Vanity Fair
 
"In this witty memoir, former It girl Natasha Fraser-Cavassoni spills the beans on Warhol and his inner circle…In hilarious anecdotes and hard-hitting interviews, [she] explores Warhol's indelible impact on the art world and pop culture."
—Artnet.com
 
"[An] engaging look at Warhol's social matrix from the early days of the Factory to the impact of his personal aesthetic on art, fashion and popular culture decades beyond his death…a serious and worthwhile addition to Warhol studies because of the wealth of knowledge [Natasha Fraser-Cavassoni] brings to the subject."
—Tony Norman, Pittsburgh Post-Gazette
 
"Natasha Fraser-Cavassoni, a fashion journalist and writer, tells all…in her new memoir, After Andy."
—Elle Decor

"[A] glitzy chronicle…lavishly detailed…exposing the true glamour of the Warhol-ian world… Fraser-Cavassoni unleashes an intriguing stockpile of anecdotes that will delight Warhol's legion of admirers… A pop icon's star-studded legacy decorated with red-carpet prestige."
—Kirkus 

"With poignancy and lots of laughs, Natasha Fraser-Cavassoni takes us straight to the heart of celebrity culture—by way of 1970s London, 1980s New York, and 1990s Paris. After Andy is a must-read for anyone who loves art, fashion, and great gossip!"
—Kate Betts, author of My Paris Dream
 
"Natasha Fraser-Cavassoni's riveting eyewitness memoir captures Warhol's inner circle in the aftermath of the artist's sudden death with insight, factuality, compassion and fabulous high style."
—Bob Colacello, author of Holy Terror: Andy Warhol Close Up
  
"As a visual artist obsessed with all things Warhol, I dove into After Andy looking for tales of the Factory and found the rich and deftly reported memoir of an honest and reluctant 'it girl.' Fraser-Cavassoni's laser-sharp memory and attention to detail—fashion, interiors, conversation—make her story of searching for herself through the lens and legacy of Andy Warhol an utter joy to read." 
—Laurie Simmons
 
"Seen through the eyes and the sharp tongue of a clever English society girl, After Andy is a compelling chronicle that offers an entrée into the world of art and fashion in the '80s and '90s in New York, Paris, and London." 
—Diane von Furstenberg, author of The Woman I Wanted to Be
 
"The mysterious fabulosity of Andy Warhol is the gift that keeps on giving. Natasha, the insider, rips the wig off the whole shebang and offers a ton of intelligent and personal insights." 
—Simon Doonan, author of The Asylum

"Natasha Fraser-Cavassoni observes everything with a raised eyebrow, but also with graciousness, amusement, and enthusiasm. She navigates joyously through the past and present, writing about the intimacies of her social and professional life with an outsider's independent view. Her contradictions are her charm." 
—Ines de la Fressange, author of Parisian Chic
 
"As an observant insider, Natasha Fraser-Cavassoni has great stories and the best take on things."
—Sofia Coppola
 
"I enjoyed After Andy enormously."
—Rupert Everett, author of Red Carpets and Other Banana Skins
 
"After Andy should be called Confessions of the Ultimate Insider. It is a fascinating, candid account of international court society written by a court favorite—a nonfiction version of Truman Capote's Answered Prayers."
—Toby Young, author of How to Lose Friends and Alienate People