Madame Bovary (Norton Critical Editions) (Paperback)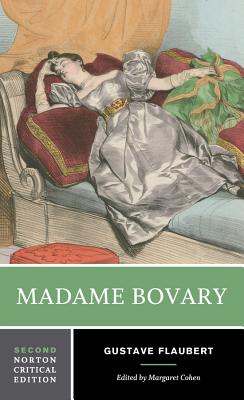 $27.83

If not in stock, we can Special Order from the publisher
Description
---
The text of this Norton Critical Edition is based on Eleanor Marx Aveling's celebrated translation, revised by Paul de Man.
Margaret Cohen's careful editorial revision modernizes and renews Flaubert's stylistic masterpiece. In addition, Cohen has added to the Second Edition a new introduction, substantially new annotations, and twenty-one striking images, including photographs and engravings, that inform students' understanding of middle-class life in nineteenth-century provincial France. In
Madame Bovary
, Flaubert created a cogent counter discourse that exposed and resisted the dominant intellectual and social ideologies of his age. The novel's subversion of conventional moral norms inevitably created controversy and eventually led to Flaubert's prosecution by the French government on charges of offending "public and religious morality." This Norton edition is the only one available that includes the complete manuscript from Flaubert's 1857 trial. "Criticism" includes sixteen studies regarding the novel's central themes, twelve of them new to the Second Edition, including essays by Charles Baudelaire, Henry James, Roland Barthes, Jonathan Culler, and Naomi Schor. A Chronology and Selected Bibliography are also included.
About the Author
---
Gustave Flaubert (1821-80) is considered to be one of the most important French novelists of the nineteenth century. He's most well known for his novel Madame Bovary, and for his desire to write "a book about nothing," a novel in which all external elements, especially the presence of the author, have been eliminated, leaving nothing but style itself. Often considered a member of the naturalist school, Flaubert despised categorizations of this sort, and in novels like Bouvard and Pécuchet demonstrates the inaptness of this label. In addition to these two novels, he is also the author of A Sentimental Education, Salambo, Three Tales, and The Temptation of Saint Anthony.

Margaret Cohen is Professor in the Department of French and Italian at Stanford University. Her publications include The Sentimental Education of the Novel and Profane Illumination: Walter Benjamin and the Paris of Surrealist Revolution, as well as the co-edited collections Spectacles of Realism—Body, Gender, Genre and The Literary Channel: The Inter-national Inventions of the Novel. She has also translated and edited Sophie Cottin's Claire d'Albe (1799).