All Other Nights: A Novel (Paperback)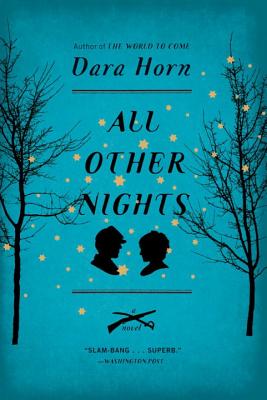 List Price: $14.95
Our Price: $8.00
(Save: $6.95 46%)
May 2009 Indie Next List
---
"All Other Nights is a picture of the Civil War I've never seen before -- Jew divided from Jew, just like the rest of the country. Eccentric and highly memorable characters, tragedy, deep romance, and an intricate plot make this a thrilling read that I will be recommending to a broad swath of customers."
— Lilla G. Weinberger, Readers' Books, Sonoma, CA
Winter 2011 Reading Group List
---
"The Civil War divided America's Jewish population geographically, but they remained united by business, family relationships, and religion. The moral divide over slavery casts a Union soldier of Jewish descent into acts of espionage that involve both family and friends. How this night is different from every other night is a profound question that Jews ask themselves during Passover. What happens to this soldier on various nights of his deployment wrecks havoc with his identity and his allegiances. Horn paces this novel like a thriller. I couldn't put it down!"
— Dianne Patrick, Snowbound Books, Marquette, MI
Description
---
A New York Times Book Review Editors' Choice



"Slam-bang.…superb." —Washington Post
How is tonight different from all other nights? For Jacob Rappaport, a Jewish soldier in the Union army during the Civil War, it is a question his commanders have already answered for him—on Passover, 1862, he is ordered to murder his own uncle in New Orleans, who is plotting to assassinate President Lincoln. After this harrowing mission, Jacob is recruited to pursue another enemy agent, the daughter of a Virginia family friend. But this time, his assignment isn't to murder the spy, but to marry her. Their marriage, with its riveting and horrifying consequences, reveals the deep divisions that still haunt American life today.
Based on real personalities such as Judah Benjamin, the Confederacy's Jewish secretary of state and spymaster, and on historical facts and events ranging from an African American spy network to the dramatic self-destruction of the city of Richmond, All Other Nights is a gripping and suspenseful story of men and women driven to the extreme limits of loyalty and betrayal. It is also a brilliant parable of the rift in America that lingers a century and a half later: between those who value family and tradition first, and those dedicated, at any cost, to social and racial justice for all.
In this eagerly awaited third novel, award-winning author Dara Horn brings us page-turning storytelling at its best. Layered with meaning, All Other Nights reinvents the most American of subjects with originality and insight.
About the Author
---
Dara Horn is the author of five novels and was one of Granta's Best Young American Novelists. She has taught Jewish literature at Harvard, Sarah Lawrence College, and Yeshiva University. She lives in New Jersey with her family.
Praise For…
---
Engrossing.…delicious.
— New York Times Book Review

Vibrant and compelling.
— Ruth Andrew Ellenson - Los Angeles Times

All Other Nights has the propulsive, suspenseful narrative of an espionage thriller, but the novel stands out because of the larger moral dilemmas Horn weaves into an epic.

— Sarah Weinman - New York Post

An enjoyably fast-paced amalgam of historical romance, spy novel and political thriller.…a rare and memorable portrait of Jewish life during the Civil War.
— Emily Bingham - Wall Street Journal

An astonishing storyteller.…[an] extraordinary novel.
— Financial Times

Riveting…written in meticulous but energetic prose…All Other Nights interrogates and celebrates nationhood and freedom.…Conflating Jewish and American history, Horn's third and most accomplished novel portrays Passover, the festival of freedom, amid the carnage caused by slavery. Horn's lively, timely tale extends the range of American Jewish literature beyond familiar themes of immigration, assimilation and extermination.

— Steven G. Kellman - The Forward

The richness of the background painted so ably by Dara Horn makes what is a coming-of-age saga a compelling account of one man's development through the horrors of the Civil War.…Dara Horn's skill as a writer and depth of comprehension is fully realized in this remarkable novel.
— Morton Teicher - Jewish Journal

A Civil War spy page-turner meets an exploration of race and religion in 19th-century America in Horn's enthralling latest.…Horn propels the love story at a thriller's pace; the mix of love and loyalty played out in a divided America is sublime.
— Publishers Weekly (starred review)

A complex, multilayered, and thoroughly involving historical novel. Horn both unearths a fascinating, relatively unexplored aspect of American history—the role of Jewish Americans in the Civil War—and delivers a novel rich in human emotion and ambiguity. A triumph
— Booklist (starred review)

A tale of adventure that weaves the Civil War and the Jews of the North and South together in a web of betrayal and love, dignity and loss, that takes the breath away and makes the heart pound.
— Anne Roiphe