The Luck of Friendship: The Letters of Tennessee Williams and James Laughlin (Hardcover)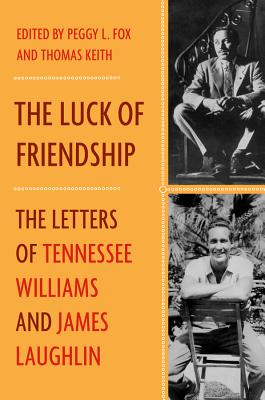 $39.95

If not in stock, we can Special Order from the publisher
Description
---
The chronicle of Tennessee Williams and James Laughlin's unlikely yet enduring literary and personal relationship.
In December 1942, two guests at a Lincoln Kirstein mixer bonded over their shared love of Hart Crane's poetry. One of them was James Laughlin, the founder of a small publishing company called New Directions, which he had begun only seven years earlier as a sophomore at Harvard. The other was a young playwright named Thomas Lanier Williams, or "Tennessee," as he had just started to call himself. A little more than a week after that first encounter, Tennessee sent a letter to Jay—as he always addressed Laughlin in writing— expressing a desire to get together for an informal discussion of some of Tennessee's poetry. "I promise you it would be extremely simple," he wrote, "and we would inevitably part on good terms even if you advised me to devote myself exclusively to the theatre for the rest of my life."
So began a deep friendship that would last for forty-one years, through critical acclaim and rejection, commercial success and failure, manic highs, bouts of depression, and serious and not-so-serious liaisons. Williams called Laughlin his "literary conscience," and New Directions serves to this day as Williams's publisher, not only for The Glass Menagerie and his other celebrated plays but for his highly acclaimed novels, short stories, and volumes of poetry as well. Their story provides a window into the literary history of the mid-twentieth century and reveals the struggles of a great artist, supported in his endeavors by the publisher he considered a true friend.
About the Author
---
Peggy L. Fox is the former president and publisher of New Directions, was Tennessee Williams's last editor, and is James Laughlin's literary coexecutor. She lives in Athens, New York.

Thomas Keith began his association with James Laughlin, Peggy L. Fox, and New Directions in 1987 and has edited the Tennessee Williams titles for New Directions since 2002. He works as a consultant, editor, and acting teacher in New York City.
Praise For…
---
A sparkling collection of forty years of letters between Tennessee Williams and the remarkable poet/publisher James Laughlin, whom Tennessee called his 'literary conscience' and his greatest and most trusted friend. Because Tennessee and Laughlin were both wildly peripatetic, their paths rarely crossed, ensuring that their bond would live in their correspondence. The Luck of Friendship shows us a rare side of Tennessee in his interactions with that rarest of individuals, James Laughlin.

— John Guare, author of Six Degrees of Separation

Reading these letters revealed a Tennessee Williams I had never known before. Certainly not in his fabulous, fantastical plays, his tortured memoirs or the Southern Gothic biographies. Instead of being a character in one of his own plays, this Tennessee is a practical and dedicated man of the theatre, an uncompromising artist and a loving and loyal friend. I have never felt closer to a fellow playwright. Tennessee, we hardly knew you!
— Terrence McNally, author of Master Class

James Laughlin was the first to publish Tennessee Williams and the only major collaborator with whom Williams did not fall out. The Luck of Friendship is testimony to their unique, intimate collaboration down the decades. Together, they put before the American public a singular body of work, one which sustained both the foremost American playwright and one of the foremost American independent publishing houses. The Luck of Friendship offers a vivacious insight into both men, an important addition to Williams scholarship.

— John Lahr, author of Tennessee Williams: Mad Pilgrimage of the Flesh

This remarkable correspondence charts the delicate course of two literary colleagues who become fast friends; two poets who held one another aloft during the triumphant and devastating vagaries of their careers; and two men who expressed themselves in prose with the ease most of us employ in merely breathing. It's an intimate peek into a deeply moving, even profound relationship.
— Doug Wright, author of I Am My Own Wife and War Paint

A feast for Williams fans—while the events are familiar, what's new is the voice. In The Luck of Friendship we get the sane Williams, so often missing from books about his drug-addled career. Idealism and seriousness permeate this book, along with the familiar humor, shrewdness, and paranoia. (The letter in which the playwright ponders whom to leave money in his will is alone worth the price of the book.) Strewn with lines poetic, dishy, shrewd, and sometimes laugh-out-loud funny, the pleasure of this collection comes not just from its portrayal of a unique friendship but the fact that Williams could not write a graceless or unmemorable sentence.

— Andrew Holleran, author of Dancer From the Dance and Grief

Revealing and moving.... The rivers of mutual affection, admiration, and artistry form a powerful confluence in these deeply affecting exchanges.
— Kirkus (starred review)

Both men are giants and these letters are gems. The audience for this exemplary collection should be legion.
— Library Journal (starred review)

A remarkable window onto a literary friendship.
— Publishers Weekly