Constance Fenimore Woolson: Portrait of a Lady Novelist (Hardcover)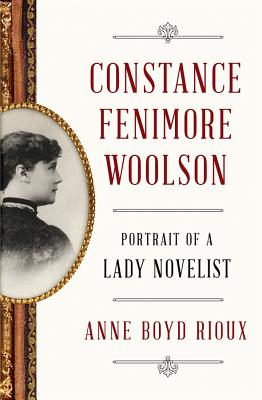 $32.95

If not in stock, we can Special Order from the publisher
Description
---
"Biography at its best aims at resurrection. Anne Boyd Rioux has brought the novelist Constance Fenimore Woolson back to life for us. Hurrah!" —Robert D. Richardson, author of the Bancroft Prize–winning William James: In the Maelstrom of American Modernism
Constance Fenimore Woolson (1840–1894), who contributed to Henry James's conception of his heroine Isabelle Archer in The Portrait of a Lady, was one of the most accomplished American writers of the nineteenth century. Yet today the best-known (and most-misunderstood) facts of her life are her relationship with James and her probable suicide in Venice. This first full-length biography of Woolson provides a fuller picture that reaffirms her literary stature.
Uncovering new sources, Anne Boyd Rioux evokes Woolson's dramatic life. She was a grand-niece of James Fenimore Cooper and was born in New Hampshire, but her family's ill fortunes drove them west to Cleveland. Raised to be a conventional woman, Woolson was nonetheless thrust by her father's death into the role of breadwinner, and yet, as a writer, she reached for critical as much as monetary reward.
Known for her powerfully realistic and empathetic portraits of post Civil–War American life, Woolson created compelling and subtle portrayals of the rural Midwest, Reconstruction-era South, and the formerly Spanish Florida, to which she traveled with her invalid mother. After her mother's death, Woolson, with help from her sister, moved to Europe where expenses were lower, living mostly in England and Italy and spending several months in Egypt. While abroad, she wrote finely crafted foreign-set stories that presage Edith Wharton's work of the next generation.
In this rich biography, Rioux reveals an exceptionally gifted and committed artist who pursued and received serious recognition despite the difficulties faced by female authors of her day. Throughout, Rioux goes deep into Woolson's character, her fight against depression, her sources for writing, and her intimate friendships, including with Henry James, painting an engrossing portrait of a woman and writer who deserves to be more widely known today.
About the Author
---
Anne Boyd Rioux, a professor at the University of New Orleans, is the author of Constance Fenimore Woolson: Portrait of a Lady Novelist and Meg, Jo, Beth, Amy: The Story of Little Women and Why It Still Matters, and the editor of Woolson's Miss Grief and Other Stories. Rioux has received two National Endowment for the Humanities Awards, one for public scholarship, and lives in New Orleans.
Praise For…
---
[It's] galling that most who remember [Woolson] today do so in connection with Henry James, who occupied murky territory somewhere between frenemy and soulmate. It's the James legacy that Anne Boyd Rioux wrestles with most in her excellent biography. . . . [Her] complex account leaves readers with an impression of Woolson's yearning ambition and uncertain triumph.
— Chicago Tribune, "Best Books of 2016"

Refreshing . . . [T]his gentle portrait of a woman who struggled to be true to herself as an artist adds much-needed nuance to American cultural and social history.
— Wendy Smith - Boston Globe

A remarkable picture of a bold, bright woman who paved the way for writers such as Edith Wharton, E. M. Forster, and Willa Cather, and who arguably might be hailed in the same breath as Henry James and George Eliot. . . . Rioux's biography puts the woman herself back in the center of the frame and celebrates the fact that a 19th-century female writer could choose not to marry or have children, but instead to support herself by her pen.
— Rebecca Foster - Los Angeles Review of Books

A duet [between Rioux and Woolson] that is clear and strong and exciting. . . . [Woolson] creat[ed] a still relevant and exciting body of work that Rioux guides readers to.
— Susan Larson - New Orleans Advocate

[Rioux] has done a substantial service to American literature with . . . a scholarly resuscitation of a writer whose literary life was caught in a gender bind, aiming ambitiously to give us a new appreciation of her life and work.
— David Holmberg - Bookslut.com

A vivid, deeply involving biography. . . . Rioux writes with captivating lucidity and conviction . . . [and] offers smart and poignant insights into why Woolson was forgotten and why her unapologetically sincere and passionate novels and stories fell so swiftly out of favor.
— Booklist, starred review

An important contribution to reestablishing this long-overlooked writer to her rightful place in the American literary canon, this excellent book will captivate readers.
— Library Journal, starred review

A fine and detailed study . . . Rioux[] makes a strong case for reassessing this contemporary and close friend of Henry James.
— Karen Shook - Times Higher Education (UK)