Deep Creek: Finding Hope in the High Country (Hardcover)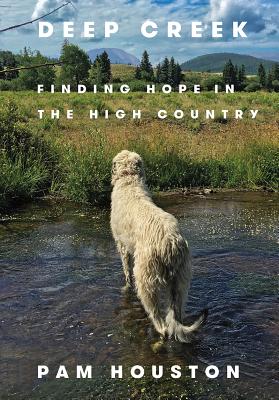 $25.95

If not in stock, we can Special Order from the publisher
Staff Reviews
---
Pam Houston's writing is both brutally honesty and beautifully lyrical in this memoir of life on her ranch in the Colorado high country. Lucky to escape her violent childhood home with her life, Houston found a place where she can sit still with herself and her animals. However, that quiet has led to the realization that there is no haven from the dangers of climate change.
— Arsen Kashkashian
February 2019 Indie Next List
---
"I can't decide if Mineral County, Colorado, is a piece of heaven or if it's actually heaven. Either way, it is a wondrous Rocky Mountain paradise — a paradise beset by bitter cold, fires, and various degrees of hardship, but always exquisite beauty. Pam Houston has 120 acres of it, and readers get a glimpse of life and death on the ranch in this marvelous combination of memoir and nature writing. Both deeply personal and wide-reaching, Deep Creek is about the human capacity to feel grief and joy all at once for the ground beneath one's feet and the planet as a whole."
— Stan Hynds, Northshire Saratoga, Saratoga Springs, NY
Summer 2020 Reading Group Indie Next List
---
"Deep Creek is Pam Houston at her most honest and lyrical. She looks at how her life has been shaped by her beautiful ranch in Colorado's high country, and she lovingly evokes that land with its horses, dogs, and, most importantly, the people who populate and enrich her life."
— Arsen Kashkashian, Boulder Book Store, Boulder, CO
Description
---
"How do we become who we are in the world? We ask the world to teach us."
On her 120-acre homestead high in the Colorado Rockies, beloved writer Pam Houston learns what it means to care for a piece of land and the creatures on it. Elk calves and bluebirds mark the changing seasons, winter temperatures drop to 35 below, and lightning sparks a 110,000-acre wildfire, threatening her century-old barn and all its inhabitants. Through her travels from the Gulf of Mexico to Alaska, she explores what ties her to the earth, the ranch most of all. Alongside her devoted Irish wolfhounds and a spirited troupe of horses, donkeys, and Icelandic sheep, the ranch becomes Houston's sanctuary, a place where she discovers how the natural world has mothered and healed her after a childhood of horrific parental abuse and neglect.
In essays as lucid and invigorating as mountain air, Deep Creek delivers Houston's most profound meditations yet on how "to live simultaneously inside the wonder and the grief…to love the damaged world and do what I can to help it thrive."
About the Author
---
Pam Houston is the prize-winning author of Contents May Have Shifted, among other books. She is professor of English at the University of California–Davis and lives on a ranch at 9,000 feet in Colorado near the headwaters of the Rio Grande.
Praise For…
---
There is so much beauty, wisdom, and truth in this book, I felt the pages almost humming in my hands. I was riveted and enlightened, inspired and consoled. This is a book for all of us, right now.
— Cheryl Strayed, author of Wild

This book is endlessly wise, funny, and full of heart. To say that its clear-eyed, doom-laden—yet loving—message is important and timely would be an understatement. It is unapologetically sincere, utterly moving.
— Tommy Orange, author of There There

Deep Creek is a love letter to earth, animals, and the best of humanity. Pam Houston has taken our heartache and woven it back into hope. Her stories of love, loss, and a life lived in relationship to land give us good reasons not to give up on ourselves or each other. This is the book we need right now to remind us how to endure—passionately. An unstoppable heart song.

— Lidia Yuknavitch, author of The Misfit's Manifesto

Pam Houston is the rodeo queen of American letters. In Deep Creek, her voice has never been more fully realized, and her message never more important.

— Samantha Dunn, author of Not by Accident

Full of wisdom, wit, and loving attention, Pam Houston's survey of her life and land should be required reading for anyone who loves this planet we call home.
— Camille T. Dungy, author of Guidebook to Relative Strangers

In the face of the world's turmoil, this book is utter clarity. In the face of the world's harshness, this book is a soft place to land…If you find yourself careening toward despair, pick up Deep Creek and read even just one page. The words there will lift you back to hope—not the sentimental kind, but the kind that can and does change the world for the better. What gratitude we owe to Pam Houston for writing it.

— B. K. Loren, author of Animal, Mineral, Radical

Houston has a great range of vision, and she's fun to read. She gets the land right…In this perfectly American memoir, a restless heart finds its place.
— Craig Childs, author of Atlas of a Lost World

A profound and inspiring love letter to one piece of Earth—and to the rest of it, as well.
— Kirkus Reviews (starred review)

Houston's vision find a solid place among the chronicles of quiet appreciation of the American wilderness, without the misanthropy that often accompanies the genre; her passion for the land and its inhabitants is irresistibly contagious.
— Publishers Weekly (starred review)

Always impressive, Houston is in striking form here. Her talent remains remarkable and her words extraordinarily affecting and effective.
— Booklist (starred review)

Highly recommended as a memoir that combines nature, writing, and personal reflection.
— Library Journal (starred review)