The Richest Man Who Ever Lived: King Solomon's Secrets to Success, Wealth, and Happiness (Hardcover)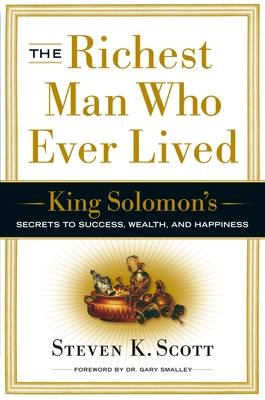 $22.00

NOT on our shelves - Usually Ships in 1-5 Days
Description
---
In this short, powerful book, multimillionaire and bestselling author Steven K. Scott reveals King Solomon's breakthrough strategies to achieve a life of financial success and personal fulfillment.

Steve Scott flunked out of every job he held in his first six years after college. He couldn't succeed no matter how hard he tried. Then Dr. Gary Smalley challenged him to study the book of Proverbs, promising that in doing so he would achieve greater success and happiness than he had ever known. That promise came true, making Scott a millionaire many times over.

In The Richest Man Who Ever Lived, Scott reveals Solomon's key for winning every race, explains how to resolve conflicts and turn enemies into allies, and discloses the five qualities essential to becoming a valued and admired person at work and in your personal life. Scott illustrates each of Solomon's insights and strategies with anecdotes about his personal successes and failures, as well as those of such extraordinary people as Benjamin Franklin, Thomas Edison, Oprah Winfrey, Bill Gates, and Steven Spielberg.

At once inspiring and instructive, THE RICHEST MAN WHO EVER LIVED weaves the timeless truths of one of our greatest works of literature into a detailed roadmap for successful living today.
About the Author
---
STEVEN K. SCOTT, a writer, producer, director, and marketing entrepreneur, is the cofounder of American Telecast Corporation. Along with his partners, he has created more than a dozen businesses that have achieved billions of dollars in sales. He has authored five international bestsellers and is a popular national speaker on the subject of personal and professional achievement.
Praise For…
---
Acclaim for The Richest Man Who Ever Lived

"Truly amazing! Solomon gives us the master keys to success, wealth, and happiness. In this book, Steve Scott puts those keys in our hands, and shows us how to use them. Whether you're just getting started in business, or the CEO of a Fortune 500 company, I believe these breakthrough strategies could propel you to levels of success and happiness you haven't yet imagined. No wonder the wisest man who ever lived, also became the richest!"

—David Neelman, Founder and CEO, Jet Blue


"The insights, advice, solutions, and specific steps provided in this book are truly life changing. Whether they are applied to your job, career, marriage, or parenting, it's quickly obvious that they have the power to change everything!"

—Joan Lunden (former host, Good Morning America)


"This book is the result of an astonishing idea developed by Steven Scott from interpreting the book Book of Proverbs, in which he says (and demonstrates) that there are solutions to every problem in life…. "The Richest Man Who Ever Lived" bears out his contention."

—Hugh Downs, ABC News