The Botany of Desire: A Plant's-Eye View of the World (Paperback)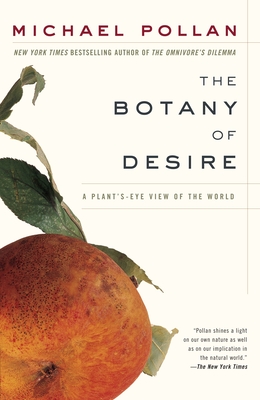 Description
---
"Pollan shines a light on our own nature as well as on our implication in the natural world." —The New York Times

"A wry, informed pastoral." —The New Yorker

The book that helped make Michael Pollan, the New York Times bestselling author of How to Change Your Mind, Cooked and The Omnivore's Dilemma, one of the most trusted food experts in America

Every schoolchild learns about the mutually beneficial dance of honeybees and flowers: The bee collects nectar and pollen to make honey and, in the process, spreads the flowers' genes far and wide. In The Botany of Desire, Michael Pollan ingeniously demonstrates how people and domesticated plants have formed a similarly reciprocal relationship. He masterfully links four fundamental human desires—sweetness, beauty, intoxication, and control—with the plants that satisfy them: the apple, the tulip, marijuana, and the potato. In telling the stories of four familiar species, Pollan illustrates how the plants have evolved to satisfy humankind's most basic yearnings. And just as we've benefited from these plants, we have also done well by them. So who is really domesticating whom?
About the Author
---
Michael Pollan is the author of seven books, including Cooked: The Natural History of Transformation, Food Rules, In Defense of Food, and The Omnivore's Dilemma. A longtime contributor to The New York Times, he is also the Knight Professor of Science and Environmental Journalism at the University of California, Berkeley. In 2010, Time magazine named him one of the one hundred most influential people in the world.
Praise For…
---
"Pollan shines a light on our own nature as well as on our implication in the natural world." —The New York Times

"[Pollan] has a wide-ranging intellect, an eager grasp of evolutionary biology and a subversive streak that helps him to root out some wonderfully counterintuitive points. His prose both shimmers and snaps, and he has a knack for finding perfect quotes in the oddest places. . . . Best of all, Pollan really loves plants." —The New York Times Book Review

"A wry, informed pastoral." —The New Yorker

"We can give no higher praise to the work of this superb science writer/ reporter than to say that his new book is as exciting as any you'll read." —Entertainment Weekly

"A whimsical, literary romp through man's perpetually frustrating and always unpredictable relationship with nature." —Los Angeles Times